After dealing with astronomical wedding costs, it's common for newlyweds to want the most bang for their buck when it comes to the honeymoon. However, that doesn't mean couples can't plan the honeymoon of a lifetime. Read on to learn about six different strategies to stretch your dollar on your upcoming trip.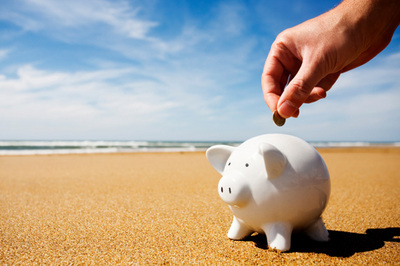 Use a registry. By establishing a well-rounded and engaging registry, you can get friends and family to contribute towards your dream honeymoon. Whether you receive a few hundred dollars or several thousand, it will likely make a huge difference.
Fly on a low-cost airline. If you can deal with a lack of traditional services such as meals and entertainment, this can be a great way to save on travel costs. Compare rates at Southwest, JetBlue, Virgin America, Spirit, and Frontier, among many others.
Buy groceries when you can. Head to a local market, food stand, or grocery store and purchase some local products. If you dine out three meals a day for two weeks, the dollars will definitely add up. Therefore, stock up on snacks, fruit, and drinks. Whether in a bustling city or deserted tropical beach, a picnic can be cheap, delicious, romantic, and memorable.
Other ideas include:
-Picking up a bottle of wine at a local wine shop rather than ordering a glass (or bottle) at a restaurant
-Cooking or grilling out on occasion (if your room features a kitchen or grill)
Consider an all-inclusive alternative, whether a cruise or hotel. If you're content with staying on the grounds of your resort for most of your trip, you can save a lot of money by sticking to your all-inclusive plan. In fact, at many properties, food, drink (including alcohol), and activity costs are all included in your rate plan.
Couples should note that their overall choices will likely be limited at an all-inclusive property. This may also deter you from exploring your honeymoon destination and seeking out local restaurants, bars, and general outfitters.
Research any special deals at your hotel or destination. It's common for hotel websites to advertise unique offers such as free nights, complimentary breakfast, cocktails, and more. Don't forget about AAA discounts and reward points as well.
Agree on a honeymoon budget. This may be the most important money-saving tip of them all. It's key that both individuals are on the same page when it comes to finances. Once you agree on your budget, keep track of all costs before, during, and after your trip.
Recently return from your honeymoon? Got any budget tips for future honeymooners? We want to hear from you! Let us know on Facebook.