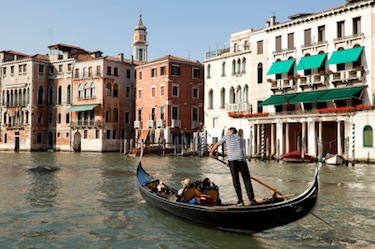 This historic city in Northern Italy stands out as one of the world's most fascinating and unique destinations. Constructed in a lagoon and featuring countless bridges, canals, pedestrian-only passageways, and stunning architecture, it wouldn't be a stretch to say that Venice was once conjured up in a fairytale. Indeed, the city is simply that enchanting.
It should also come as no surprise that Venice ranks as one of the world's most desirable destinations for honeymooners. Embark on a relaxing gondola ride along the city's many canals, enjoy dinner al fresco at one of the city's authentic restaurants like Al Covo or Bistrot de Venise, or simply wander about the maze-like streets and come across your own discoveries.
Piazza San Marco remains the hub of the city with iconic St. Mark's Basilica dominating the view. The "City of Bridges" is also home to great shopping, first-class theater experiences at Teatro La Fenice, and provides easy access to other charming islands and villages nearby such as Burano and Torcello.
Drop your bags at Hotel Canal Grande, an elegant and historic property that faces the Grand Canal and is inspired by 18th century Venetian art and culture. In addition to being equipped with most modern amenities, rooms also feature custom paintings, gold decorated furniture, and marble bathrooms.
Been to Venice recently? Let us know on Facebook about your most romantic experience in the historic city and why you'll remember it forever.
Going there soon for your honeymoon? Tell us what you're looking forward to most on your upcoming trip.
This week's feature is part of an ongoing Traveler's Joy series that focuses on the world's most romantic honeymoon destinations. Stay tuned for more destinations in the coming weeks.