St. Lucia Honeymoon Stories
Jennifer & Sam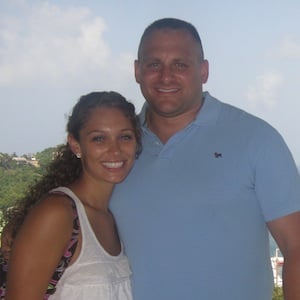 We got engaged on Valentine's Day and I was so excited to start planning our dream wedding. Unfortunately, both of us, nor our families were able to pay for the cost of the wedding and honeymoon, so we all decided to make contributions.  I remember sitting on the computer fantasizing about honeymoons at exotic locations and trying to come up with ways to make that happen. Our wedding was in September, and with the hurricane season, we knew we had to pick a location that was out of the hurricane belt.  Our choices were either Aruba or St. Lucia.  After a lot of research and advice from our friends and family, we chose St. Lucia.
Elena & Michael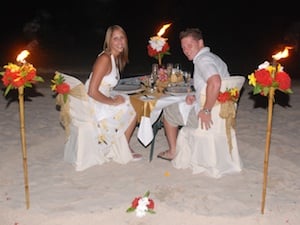 When we began to research our honeymoon, we toyed with so many different ideas and different places: Hawaii, the Mediterranean, whether to do a cruise or a resort, but nothing seemed to give us exactly what we were looking for in a honeymoon. Contradictory to our vacation "styles", Mike really wanted to do a cruise as he had never been on one before (I consider cruises typically more active) and I was leaning toward an all-inclusive on an island somewhere (much more relaxing). Eventually, we came to a decision. We would take a cruise out of Puerto Rico on the Royal Caribbean Serenade of the Seas to the Southern Caribbean: Curacao, Dominica, Aruba, and St. Thomas. Following the cruise, we would fly over to St. Lucia for another five days of bliss at the Sandals Grande. Perfect compromise in our eyes – do both! Plus, I was thrilled to be able to add not one, but six places onto our list of places we've been. Surprisingly, neither of us had been to any of the destinations on our honeymoon prior to our trip together.
Jacie & Jason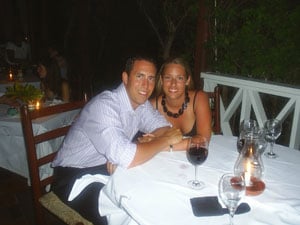 Overall, our honeymoon was better than I could ever imagine. We're already talking about when we can go back. There are so many other activities on the island we didn't even get to! We would definitely recommend St. Lucia, and specifically Ladera and Ti Kaye, to other honeymooners.