Fiji Honeymoon Stories
Shelly & Jerome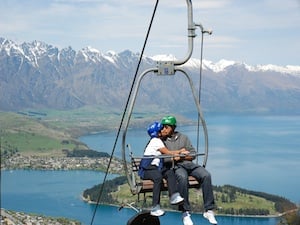 We were also aiming for a location we hadn't been to before. When looking at places around the Caribbean, South America, and Southeast Asia, nothing really jumped out at us. Ultimately, we found Fiji. And of course, many resorts had our three requirements. But after careful consideration, we realized a week in Fiji wouldn't be enough. So we decided to add a second part to our trip and spend a week in New Zealand. Since we would only be there for about a week, we chose to stay at Queenstown for the scenery. Our challenge was that we had about a $7,000 budget to cover airfare and accommodations, and we had to it stretch over two weeks and two locations. After working with a travel agent who specialized in the area, he was able to make our dream a reality. We booked a room at a boutique resort on a small island in Fiji called Matamanoa. Matamanoa was the perfect honeymoon spot because it only accommodates up to 30 or so couples and doesn't permit anyone under the age of 16. For Queenstown, we booked a spot at a Rydges Lakeside Hotel in a room overlooking Lake Wakatipu and just a short walk to the main part of town. When our travel agent handed us our itinerary, we just couldn't wait to go.
Heather & Christopher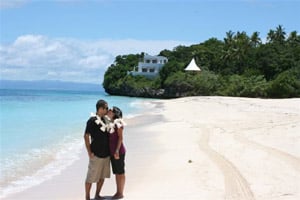 Planning our honeymoon wasn't as easy as we thought it would be. We both wanted to go somewhere that neither of us had been... someplace warm... someplace quiet... with a beach where we could just relax and unwind from the stress of the wedding. Bora Bora was at the top of our list and we wanted to stay in an over water bungalow. But the reality of the expense hit us. Strike one! There was no way we could afford to spend a week there. After talking to my travel agent friend, she suggested Fiji. She said it was similar in beauty, a bit off the beaten path, and less expensive.
Stephanie & A.J.

The first morning of our stay we were awaken by the sun sneaking into our room, lighting the high ceilings and beckoning us to snorkel in the warm water in front of us. It was the most amazing sunrise over the crystal blue water and we woke up every morning to watch it.

Read the Entire Story →