Bali Honeymoon Stories
Natalie & Tyler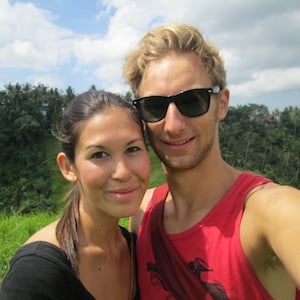 Our honeymoon in Bali was truly sensational. We would highly recommend it to lovebirds desiring a tropical getaway offering both adventure and relaxation. To quote Natalie's journal: Bali is such a unique and beautiful place. Everywhere, the foliage in bright shades of green covers the hillsides. The air smells musty and hot infused with sweet scents of flowers. People smile everywhere you go. They are extremely friendly and generous with their dispositions. Kites in all shapes and sizes color the sky. Geckos scurry across every warung wall, tiny ants line every restaurant table, and dogs nap in the shade on the streets. They are all saying, "Yes, I live in the land of tradition and prayer, laughter and late nights, incense and rice. I live in paradise."
Kristine & Nicholas
So much needed to happen to plan the wedding, but the first order of business was deciding on where to go on our honeymoon. We knew that we wanted to start a family soon after our marriage so we wanted to go somewhere we thought might be harder to go to once you have kids. I am a California surfer girl so a destination where surfing could take place was a must. Nicholas grew up on the beach as well but on the opposite coast, so the beach was a must for him. Both of us are goofy foot so going somewhere where there were lots of waves going left was preferred. Put that all into the honeymoon machine and you get Bali, Indonesia.
Elizabeth & Matthew
Three planes, thirty hours, and one International Date Line later, we arrived in Bali for our two-week stay. A short van ride later, we found ourselves in front of our lovely villa in the small village of Canggu. The villa had everything we would need for our stay, with a pool, small kitchen, and even a view of a small rice terrace, perfect for relaxing as well as serving as our home base for any excursions. Another benefit of doing a rental was that the cost was less than that of most of the hotels that we looked at for the time of year that we would be traveling. We took advantage of the small markets located on our street to stock our kitchen as well as interact with some of the local residents.