Whether you're seeking unique adventure activities or relaxing days under a swaying palm tree, the U.S. Virgin Islands offer a little bit of everything for honeymooners.
With three main islands to explore, each one different than the next, the options are practically endless. Go for the unparalleled shopping, water sports, historical sites or impressive resort offerings. But no matter what, newlyweds will likely find this one-of-a-kind destination the perfect place to spend their first days together as a married couple.
In terms of location, the U.S. Virgin Islands can be found in the Caribbean Sea about 40 miles east of Puerto Rico. The main islands consist of Saint Thomas, Saint John and Saint Croix – in addition to numerous smaller surrounding islands – and have a population just under 110,000. Saint Croix is the largest of the islands at 28 miles long by seven miles wide. The capital is Charlotte Amalie, located on St. Thomas.
The islands – which are particularly known for their white sand beaches and great diving/snorkeling sites – were formed via volcanic activity and are overall quite hilly, making for some scenic landscapes. Although previously owned by Denmark as part of the Danish West Indies, the islands are now a U.S. territory.
In terms of highly recommended places to go on the islands, the top beach destinations include the West End Beaches and Buck Island on St. Croix, Magens Bay and Coki Beach on St. Thomas, plus Trunk Bay on St. John.
For history buffs, Christiansted on St. Croix and Charlotte Amalie on St. Thomas are both terrific spots to learn about the local culture and historical events. These towns also serve as key ports and are excellent places for shopping, dining and nightlife. And for nature enthusiasts, Virgin Islands National Park is a must-visit with its exceptional trail network, secluded beaches and well-preserved natural sites.
What to Do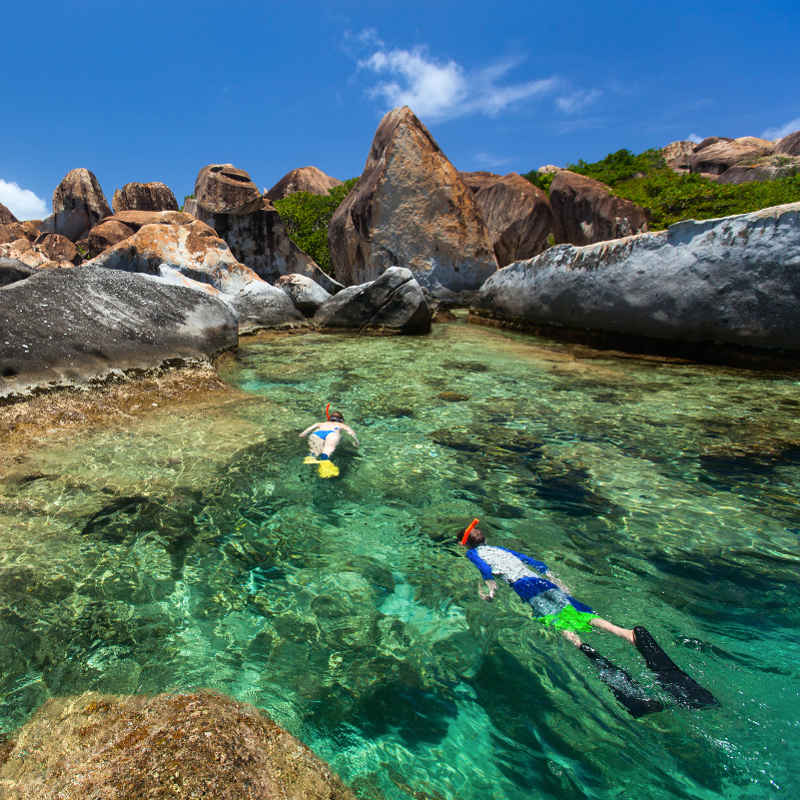 Soft Sands and Sailing — It's no secret that St. Thomas has some of the most stunning and unique beaches in the world. Be sure to experience Coki Beach, a popular spot among locals, and just a funky spot overall to check out. Make your way over to the vast array of tiny beach huts featuring delicious local food before finding a spot in the soft sand. Next, visit Magens Bay, often ranked as one of the world's top beaches. Be aware: it can get crowded, so go early. But if you're looking for a spot featuring exceptional Caribbean swimming merged with scenic surroundings, this beach cannot be beat.

Next, head out with Morningstar Charters for a romantic sunset sail along the shoreline before your evening dinner reservations.

Exploring Charlotte Amalie — Charlotte Amalie is the main commercial hub of St. Thomas and a wonderful place to spend the day and embark on a walking tour. Learn about the history of St. Thomas at historical sites like Fort Christian, the Weibel Museum and the Seven Arches Museum. Then stroll the numerous parks, alleyways and squares around town for local art, fresh produce, fine clothing, and crafts. Be sure to check out Market Square, Vendors Plaza and Tillett Gardens.

Tip: With Charlotte Amalie as one of the Caribbean's busiest cruise ship ports, consider visiting when most ships are not in port for a more intimate and relaxing experience.

Hiking in Virgin Island National Park — This expansive National Park, which covers nearly two-thirds of the island, features a slew of terrific hiking opportunities (whether solo or through guided treks). Options exist for the experienced, but also for some of the most casual trekkers, so there's something for everyone.

We highly recommend hiking the Reef Bay Trail, a three-mile-long path that heads downhill to a sandy beach. It features the ruins of a sugar factory and ancient petroglyphs. Treks to the trail often depart from the visitors' center in Cruz Bay and include a boat ride back to the start. Other scenic hikes include the Annaberg Plantation Path, Ram's Head Trail, and Salt Pond Trail.

Snorkeling and Kayaking — One cannot visit St. John without exploring its underwater wonders. Trunk Bay is a tremendous spot for snorkeling and even features its own underwater snorkeling trail established by the park service. Also, consider heading out with Arawak Expeditions and paddle your way along the northern coast to offshore islands, secluded beaches and excellent snorkeling spots. But don't forget to visit St. John's most scenic beaches – particularly Cinnamon Bay, Caneel Bay and Jumbie Bay – for soft white sand and picturesque scenery.

Buck Island Excursion — Buck Island is a small, gorgeous island located five miles north of St. Croix and is the perfect destination for a day-trip. The island is part of the Buck Island Reef National Monument and offers some of the best underwater sites of the entire region. Hop aboard a charter-boat trip with Caribbean Sea Adventures and explore the coral formations and colorful fish while snorkeling before embarking on a hike to a scenic overlook at the highest point of the island.

Exploring Christiansted — If you love history and ample shopping, then Christiansted will be perfect for you. The town has Danish roots that date back to the 18th century, when it was a major trading spot for sugar, molasses and rum. Take a day to explore well-preserved historic sites like Fort Christiansvaern before wandering the sloped hillsides and stopping in and out of shops, galleries, and open-air restaurants. Outside of town, consider visiting Cruzan Rum Distillery for a tour before heading over to the Whim Plantation Museum to stroll the beautiful grounds of the restored estate, complete with a windmill, museum, and cookhouse.
Where to Stay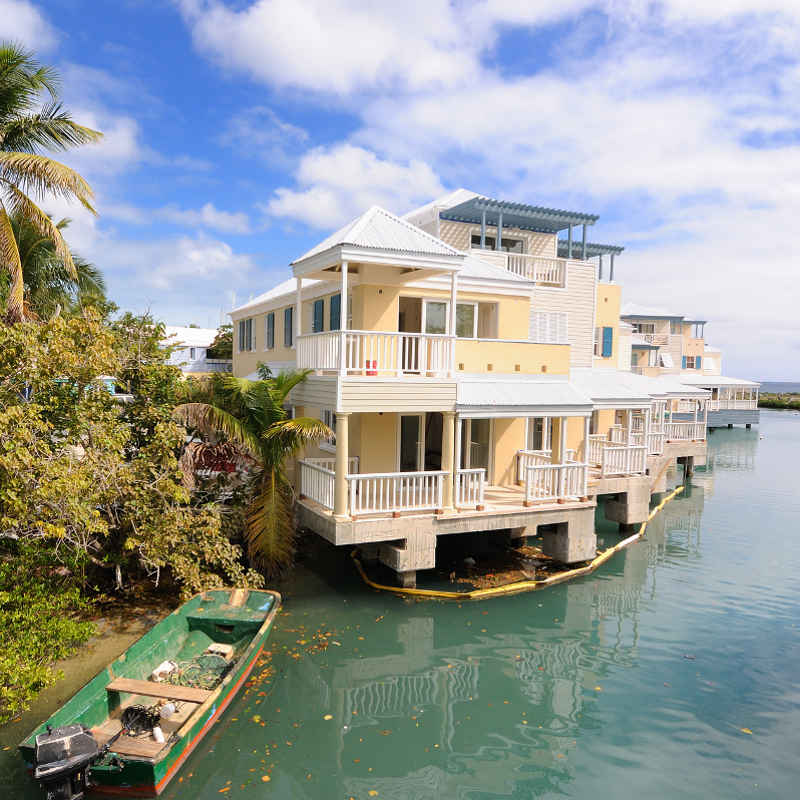 Where to Eat
The Terrace at the Buccaneer Resort - Arguably the best restaurant on the island of St. Croix, the Terrace presents open-air dining with Caribbean Sea views. Get ready for fabulous dishes like lobster caesar salad, grilled sea scallops, and maple-bourbon-brined pork chops with a roasted green apple demi-glace.

Tavern on the Waterfront - Featuring harbor views in Charlotte Amalie (St. Thomas), this very popular dining spot serves delicious French/Polish cuisine. The property is also home to a notable bar and nightclub, plus Friday night jazz.

Asolare - A unique Asian-Fusion restaurant on the island of St. John featuring mouth-watering menu selections like sweet and sour duck breast, sesame-encrusted pan seared tuna, and pan-seared crab cakes.
Getting There
Cyril E. King International Airport (STT) is located on St. Thomas and serves as the main airport for the U.S. Virgin Islands. The airport is located on the south-central part of the island and about 10 minutes west of the main town of Charlotte Amalie. It features rental car companies, taxi services, shuttle buses, and public transportation options.