South Africa is brimming with exciting cities, pristine beaches, untamed wilderness and endless natural beauty. Whether you take a sunrise tour through the bush on safari or toast to sundown on a quiet beach, the Rainbow Nation offers experiences as diverse as its geographical and cultural makeup, and is thus suited for all sorts of honeymoon travelers. The pleasures extend well beyond safari and sand – a vibrant wine region, sophisticated culinary scene, and some of the world's finest accommodations also await in this joyously welcoming country.
Along South Africa's southwest coast, Cape Town offers an idyllic mixture between major metropolitan living and raw wilderness. Home to nearly 4 million residents and sprawling with cultural sights, sounds, activities and attractions, the country's "Mother City" boasts dozens of varied beaches across two oceans (the Atlantic and warmer Indian), accessible outdoor excursions, and a prided food and wine scene which all together make for a dream-like honeymoon destination. A typical day might entail a hike or cable car ride up to the peak of flat-topped Table Mountain to fully grasp Cape Town's convergence of mountain, city, and beach below before browsing through Greenmarket Square for insight into local arts and crafts culture. Later on, saddle up for horseback riding along the beach before drinking and dining like royalty along Bree Street – quickly becoming the city's hippest spot. Cape Town is tough to leave and you could very well enjoy an entire honeymoon in and around this coastal city.
Just about one hour from metropolitan Cape Town, the Cape Winelands are home to hundreds of South African wine farms, some of which have been growing for 400 years. Several regions comprise the Winelands, each yielding deliciously distinct products and and boasting boutique spas, boho chic streetside bistros, and serene atmospheres across their extravagantly luxurious estates.
Meanwhile, more northern regions like Mpumalanga crank up the action a bit with up close and personal safari excursions. Known as "the place where the sun rises," Mpumalanga is home to the monstrous Kruger National Park, which at 7,700 square miles is one of the continent's largest game reserves. Spare no expense in one of the world's greatest luxury private game resorts, like Sabi Sands, where you'll have intimate access to finding the big 5 (lion, leopard, rhinoceros, elephant, and buffalo) and many more wondrous mammals.
Weather in South Africa varies across regions, and should be taken into account before planning your itinerary. The Western Cape enjoys a largely Mediterranean climate, central South Africa is fairly temperate, while temperatures rise in the more subtropical east and northeast. Keep in mind that winter and summer are reversed from the seasons of the United States. If safari is a top priority, visiting in the winter months (June – August) is ideal to score low rates and find increased visibility through the bare bush, but the Western Cape will be in a rainy season. Shoulder months in the country's spring (September – November) are perfect for combining different destinations: warm days perfect for the beach, cool nights fit for long walks, and safari still completely accessible.
What to Do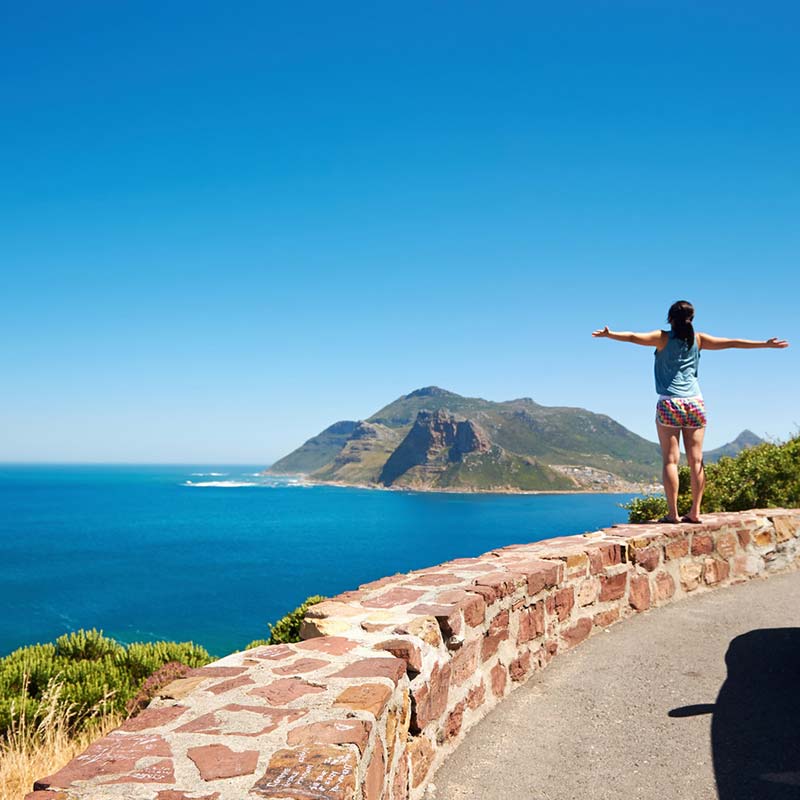 Find the Perfect Beach — With over 1,500 miles of shoreline, finding a great beach to enjoy a sunny afternoon is no challenge in South Africa. There's Camps Bay Beach in Cape Town, lined with trendy cafes and with a magnificent backdrop of the city's majestic mountains. Maybe you favor seclusion and would prefer Lappiesbaai Beach in Still Bay along the Garden Route. If you still fancy some company but don't want to sacrifice that sense of seaside detachment, head to Boulder's Bay, where you'll encounter more penguins than people. There's a beach to suit any traveler's wants in South Africa.

Safari Exploration — Even if you're not the outdoorsy type, going on a safari is a life-changing experience that will connect you with nature. Witnessing African wildlife in its natural habitat while driving through the bush is pure exhilaration at its finest, and provides a unique perspective on the miracle that is life on earth. Kruger National Park is vast and the best spot for sure sightings. Stay in a luxury lodge within the area like Thornybush or Manyeleti, where overly lavish accommodations ensure that the overall stay is as exciting as the actual safari.

Cultural Flavors — South Africa is amidst a full-fledged foodie revolution – the perfect excuse for hungry honeymoon travelers to taste everything the country has to offer, from budget street meats to Michelin-starred seafood restaurants. Grab an ironically iconic "Gatsby" sandwich (an enormous sub slathered with saucy meats and topped with french fries, typically serving up to 4), or world-famous Knysna oysters from their name-sake Garden Route town for seriously good seafood. Dried and uniquely barbecued meats like biltong and braai are practically ingrained in located culture and not to be missed. For a more upscale experience, South African seafood fusion is growing at fine dining establishments like Test Kitchen (which has won multiple restaurant of the year awards).

Take a Luxury Train — Board the rails for a luxury train experience to tour South Africa's vast and diverse landscape. With breath-taking scenery spanning from mountain ranges, winelands, sprawling desert and grasslands, the trip feels like a transport not only through South Africa, but to a simpler time. Mingle with fellow travelers, get rocked asleep by the rails, and dine on fine local cuisine prepared onboard. Rovos Rail offers several options, spanning from single day journeys to cross-country 2-week excursions. All cabins feature writing desks, oversized viewing windows, and private bathrooms – some of which even boast freestanding soaking tubs. Blue Train is another luxury operator which famously runs a 27-hour, 2-night trip between Pretoria and Cape Town.

Rev Your Adrenaline — Scuba dive down to the depths of the ocean, zip-line across mountain peaks, cage dive with sharks, and explore mysterious old caves – South Africa is loaded with thrilling outdoor activities. South Africa Adventures make it all happen seamlessly so you can get moving quicker – because getting your heart pumping on your honeymoon outside of the bedroom is always a bonus.

Drive the Garden Route — A sunny stretch of land across the southern Cape, the Garden Route offers a mix of wide beaches, dense forests, adventurous activities, and quaint seaside towns like Mossel Bay, Knysna and Plettenberg Bay, each well worth exploring. Rent a car and drive the route yourselves, picking and choosing different spots to stop in and stay overnight – the entire drive itself is maximum 8 hours. The warm Indian Ocean waters which will make up half of your view are known to attract scores of dolphins year-round and whales during breeding season, so be sure to keep your eyes peeled while cruising along the route.

Drink Through the Winelands — Whether as a leisurely day trip from Cape Town, or a few days of solid R&R, the Cape Winelands are not to be missed. The Stellenbosch region was the first to create a formal route to access its now 200+ wine producers, and is dotted with boutique hotels, spa-like sanctuaries, fine-dining restaurants, and even informative museums which offer insight into the region's deep history. Nearby Franschhoek boasts beautiful landscapes, enriched with French Huguenot heritage, which is immediately evident in the region's famed "Cap Classique" – the Cape's take on Champagne. Its boho chic village is lined with bars and bistros, and a hop-on, hop-off wine tram makes traveling between estates a total joy.
Where to Stay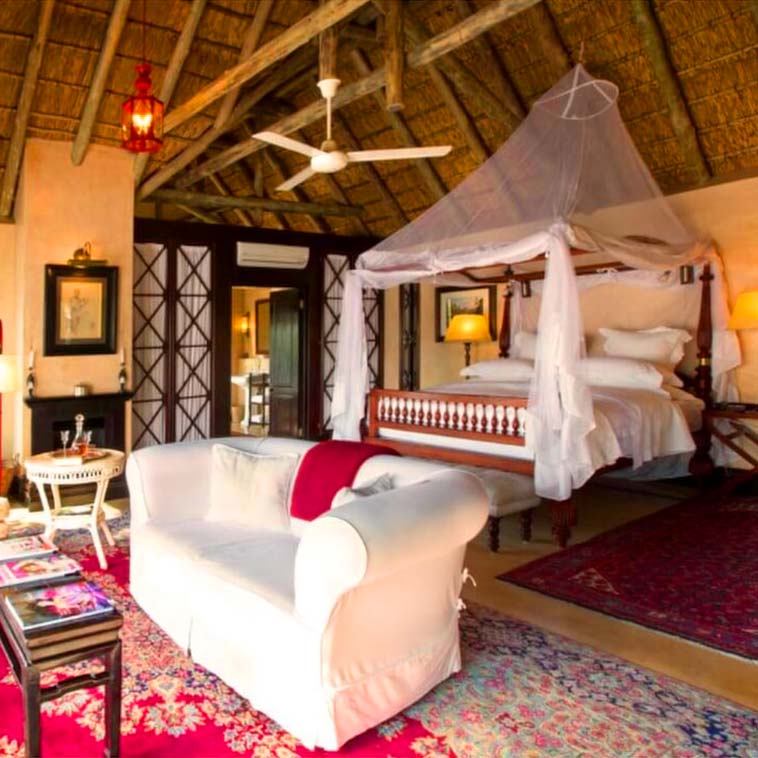 Where to Eat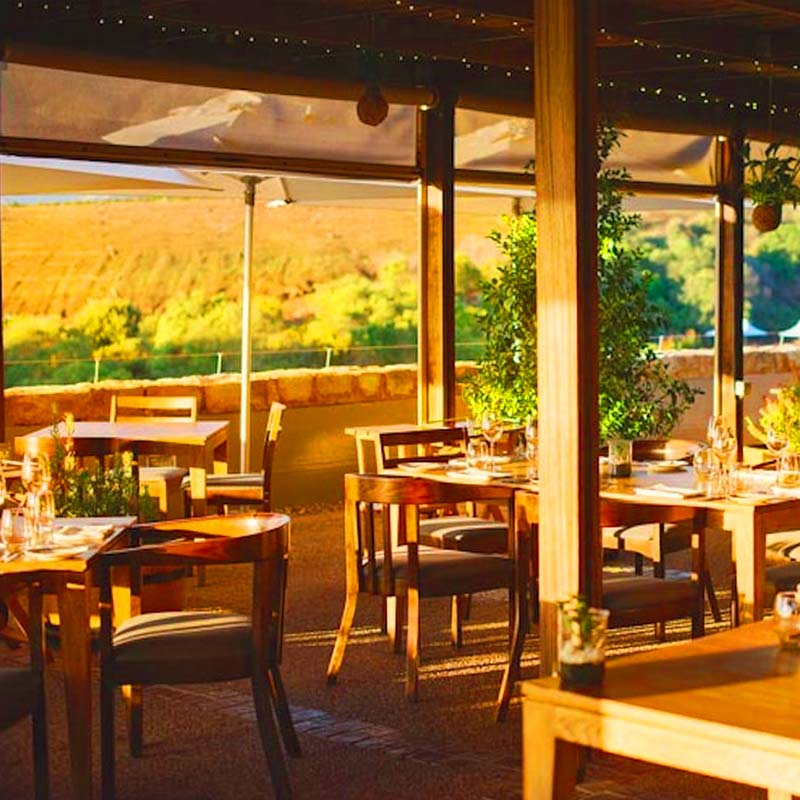 Getting There
O.R. Tambo International Airport (JNB) in Johannesburg is the air transport hub of southern Africa and your likely point of entry, with international flights serving dozens of distant cities. Cape Town International Airport (CPT) follows close behind, but does not connect to America or other countries in the Western Hemisphere. King Shaka International Airport (DUR) in Durban could be worth considering if you desire to fly straight toward South Africa's east coast. Domestically, there are many smaller airports which connect other cities, including two just for Kruger National Park (Kruger Mpumalanga International Airport and Skukuza). Smooth roads, great scenery, and accessible car rentals encourage driving between South African destinations.