There are few places in the world that offer such a wholly transporting experience as Morocco. From breathtaking natural wonders—such as the Atlas Mountains, the Sahara Desert, and the Mediterranean Sea—to historic cities such as Marrakech, Casablanca, and Fez, Morocco will captivate you from the moment you touch down in the country.
Located on the northwestern coast of Africa, Morocco is bordered by Algeria to the east and the Western Sahara territory to the south. The geography is extremely varied, from rugged mountains in the Middle and High Atlas ranges to fertile valleys in west central Morocco, beaches on the Mediterranean and Northern Atlantic coasts to desert terrain in the Saharan provinces.
Though Rabat is the capital of Morocco, most honeymooners prioritize travel to the imperial cities of Marrakech and Fez. Expect to be blown away by their historic medinas, bustling souks, modern museums, authentic riad hotels, and more. The ancient city of Casablanca has become the commercial and financial capital of Morocco, creating an interesting old-meets-new dynamic you won't find anywhere else. The seaside towns of Essaouira and Agadir offer stunning beaches, historic city centers, and busy marinas. The Atlas and Rif mountain regions, meanwhile, attract thousands of visitors each year with their snowcapped peaks, fertile valleys, and countless adventure activities.
For couples seeking unique experiences in an unfamiliar locale, Morocco is the ultimate choice. Beyond its vibrant history, cultures, and traditions, the sheer diversity of destinations—each with its own identity and geography—makes Morocco a one-stop-shop for myriad adventures. Read on for an in-depth guide to travel to Morocco so you can plan your perfect honeymoon in Morocco.
When to Go
Temperatures vary drastically depending on where you travel within the country. Cities in northern Morocco, such as Fez, feature a Mediterranean climate, characterized by hot, dry summers, and mild, wet winters. However, Marrakech features a semi-arid climate with hot, dry summers and mild winters with little precipitation. Heading to the coast? Expect cooler temperatures overall, with temperatures in the high 60s to low 50s.
Getting There and Around
Casablanca's Mohammed V International Airport (CMN) offers connection from various U.S. cities including Boston, Chicago, and Los Angeles. Marrakech-Menara International Airport (RAK) is the main airport for Marrakech, located about four miles southwest of the city. While the airport features many international rental car companies, check if your hotel provides airport pickup/drop off services, which is often more convenient and safer for getting around the city. If you plan to traverse the country, flying is often the most expedient option. That said, train service can be reasonably reliable—especially thanks to new high-speed service that's cut the travel time between Casablanca and Fez to three hours and 20 minutes.
Activities and Attractions
Exploring Marrakech — Set in the shadow of the snow-capped Atlas Mountains, Marrakech is a former imperial city and comprised of a historic medina (old town), the biggest souk (market) in the country, and bustling streets and alleyways. A must-visit stop is Jemaa el-Fna, the hub of all activity within the medina with its dancers, storytellers and musicians. This energetic square is also a UNESCO World Heritage Site.

Next, visit the souks of the medina, which are arguably the most fascinating of the entire Maghreb region. The souks are arranged based on the goods they offer and are all laid out among narrow streets. Leatherwork is quite prominent, plus jewelry, crafts, clothing, fabric and basketry.

Meanwhile, don't miss out on a trip to the historic Koutoubia Mosque, with its brilliant landmark minaret. Next, head over to the impressive Ben Youssef Medersa (one of the largest schools in the Maghreb) and Menara imperial garden with its pools and striking buildings.

Out and About in Fes — Fes is the oldest of the imperial cities and became an early religious and cultural center. The medina of Old Fes – which is the largest living Islamic medieval city in the world – is a can't-miss experience. Explore its narrow winding alleys, colorful bazaars packed with unique shops, restaurants, mosques, dye pits and tanneries. Overall, it's just an amazing compilation of sights, smells and sounds.

Visit the Chouwara Tannery to see the city's most vibrant tannery up close (best viewed in the morning from the roof-terrace leatherwear shops along Derb Chouwara). Be sure to check out Bou Inania Medersa, which is a mosque, cathedral, and school combined. Then head over to Bab Boujloud, an amazing gateway that stands as the entrance into Fes el-Bali.

Essaouira: An Escape by the Sea — Essaouira -- which almost seems to rise out of the sea -- is considered the jewel of the Atlantic Coast and offers a little bit of everything for visitors. First, it's an artists' town and quite popular with independent travelers. All the while, the city enjoys a pleasant climate year-round thanks to favorable trade winds. Explore Essaouira's stunning ramparts, sea bastions, ancient medina, bustling port, beaches, before examining the works of the town's renowned artists (from woodcarvers to painters to builders). Finally, check out the frequent fish auctions down at the port or sample some freshly grilled sardines before soaking in the phenomenal views.

Desert Excursion — Discover the Moroccan Sahara through a guided overnight excursion. You'll get the chance to visit Berber villages, ride on camels on remote sand dunes, see barren hillsides and dramatic valleys, plus explore the fortified city of Ait Benhaddou, historic Ouarzazate, and the Draa Valley before staying the night at a desert camp. Once at your camp, you'll be able to enjoy mint tea and spend the evening under the stars next to a warm fire, but not before enjoying a delicious meal featuring storytelling and a drum party. We highly recommend using Toubkal Guide or Trek Morocco for your trip, or check with your accommodation provider for their suggestions as well.

Moroccan Cooking Class — Fes is renowned as the capital of Moroccan cooking. Learn about traditional recipes and enjoy Moroccan delights such as pastille, couscous, tagines and harira by signing up for a cooking class. Participants will take part in a guided trip to the local souk to buy fresh ingredients for the day. Culinary classes are suitable for all levels and range from single day classes to seven-day culinary adventures. We're big fans of Fes Cooking and Hakima's Cooking School. The latter also offers cooking tours and trips.
Where to Stay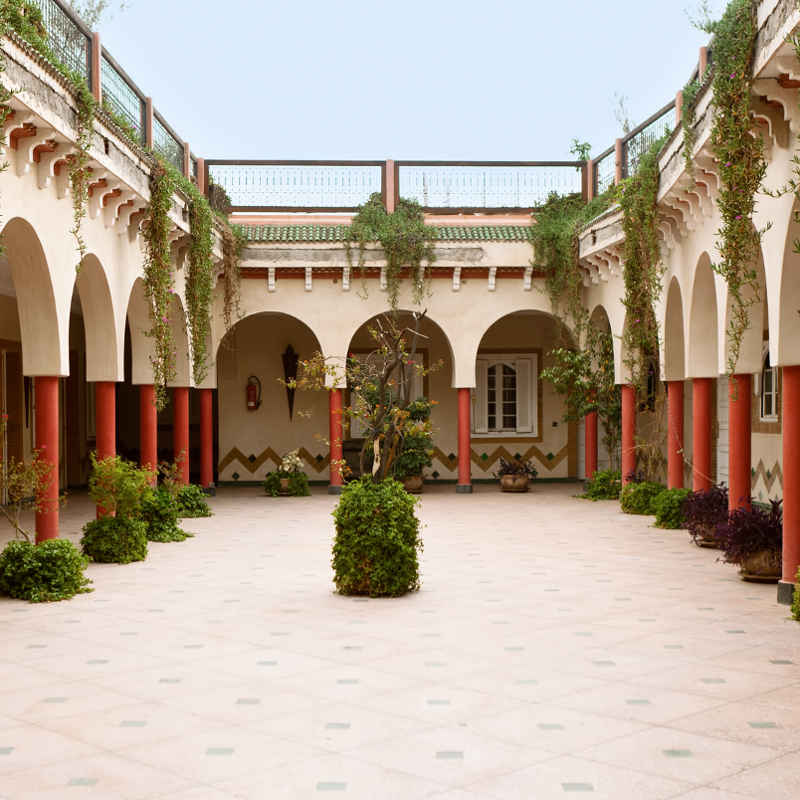 Where to Eat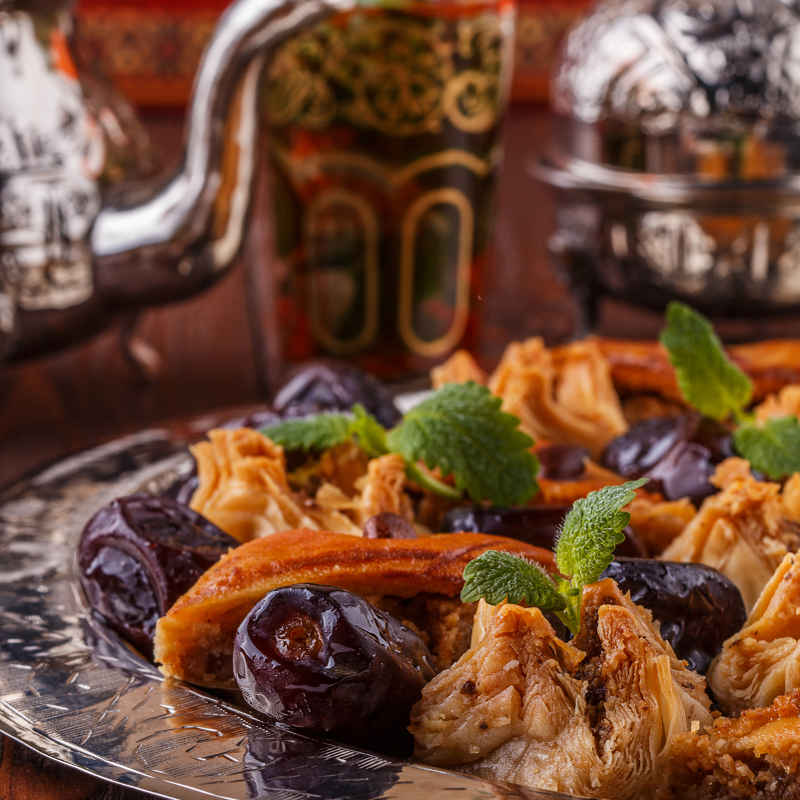 Les Trois Saveurs - Located at the boutique riad hotel La Maison Arabe in Marrakech, couples can indulge in excellent tagine — from lamb tagine (with saffron, ginger and caramelized oranges) to chicken tagine with sun-dried peaches.

Le Tobsil - This noteworthy palace restaurant in Marrakech is located down a maze of streets in the medina. With rose petals and candelabras, you'll be hard-pressed to find a more romantic spot in the city. The menu ranges from salads to tangines to traditional pastries. Overall a fabulous spot that will remind you of Marrakech from another era.  

Dar Anebar - Located inside the medina of Fes, this acclaimed dining spot features fantastic food in a lantern-lit courtyard.