Los Cabos (The Capes) is one of Mexico's most beautiful and exclusive destinations. It lies on the southernmost tip of the Baja California Peninsula, 220 kilometers (136 miles) south of La Paz. The climate is warm throughout most of the year, with an average temperature of 79°F.
During the winter in Los Cabos you can admire one of the most beautiful natural phenomena to occur on Mexico's coasts: the courtship, mating and birth process of the gray whale. During peak summer months, Magdalena Bay is perfect for scuba diving, kayaking, sport fishing, also to enjoy a romantic getaway on a pristine beach as you gaze out onto El Arco, a rocky arch formation considered a landmark of this destination. Los Cabos unites together the waters of the Pacific Ocean and the Sea of Cortez (also called the Gulf of California). UNESCO declared 244 islands and protected areas of the Sea of Cortez a World Heritage Site.
A 33-kilometer highway, called the Corredor Turistico, stretches from San Jose del Cabo to Cabo San Lucas. Along the highway, you'll find world-class hotels with top-notch restaurants, which have been known to lure a fair share of celebrities. Los Cabos is an unforgettable experience for the honeymoon couple thanks to its gorgeous beaches.
Located in the northwest region, the Baja California Peninsula borders the United States on the north, lies east of the Pacific Ocean and west of the Sea of Cortez. The region was formerly inhabited by nomadic groups that left remarkable cave paintings as a testimony of their presence. Religion subsequently proved more effective than weapons in conquering the Indians and the remains of Jesuit missions can still be seen throughout the state.
This is one of the least humid areas in the world, with a dry, extreme climate. The landscapes are unusual, since the blue shades of the sea contrast with the desert and its steeply sloping mountain ranges covered with cactus. This strip of land contains fertile valleys and gorgeous beaches; its terrestrial and marine life is extremely varied while its wines and seafood are among the best in the country.
In the peninsula's southern state, Baja California Sur is one of the states with the lowest population density, with fewer than 400,000 inhabitants. It was originally occupied by nomadic groups that left testimony of their presence in cave paintings. Baja California Sur was raised to the category of a state in 1974, when tourist resorts such as Cabo San Lucas and San Josè del Cabo were developed.
What to Do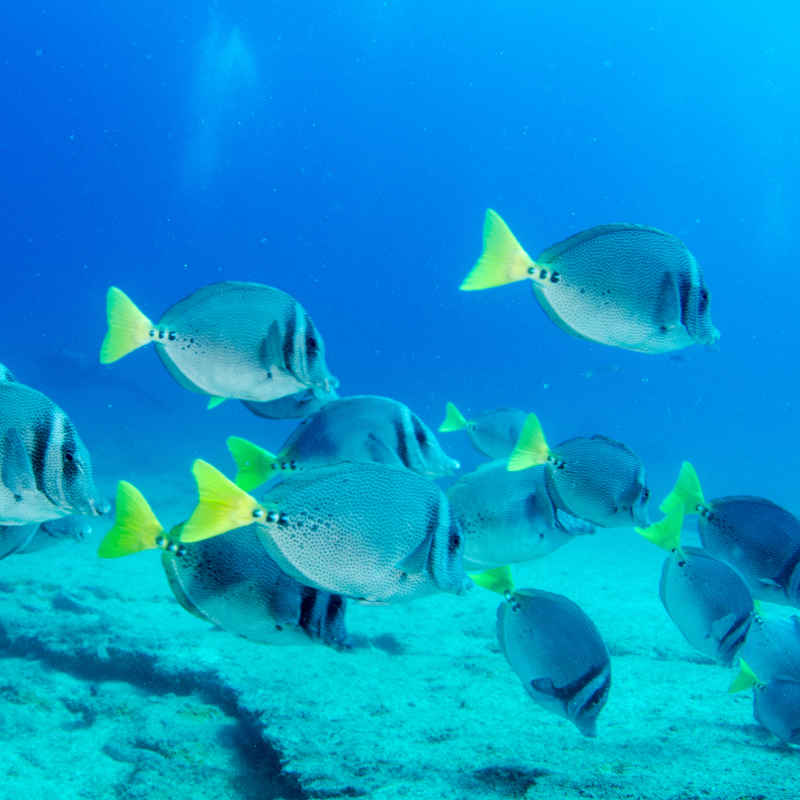 A Taste of Local Culture - Los Cabos isn't all about posh resorts and fun in the sun. The region – particularly San Jose del Cabo – offers a tremendous amount of cultural activities worthy of your time. Every Thursday, couples can join the Art Walk in San Jose, a time for strolling the Arts District, visiting galleries, and sampling food and wine. Arrive early to first visit the beautiful Main Square and historic Mission of San Jose del Cabo Church.

Kayaking - Due to dangerous rip currents, the beaches surrounding Los Cabos are not generally safe for swimming. However, there are still many ways outdoorsy couples can enjoy the magnificent Pacific Ocean waters. Thanks to many secluded coves and cliffs, sea kayaking in the region is overall terrific. Paddle out with Cabo Outfitters, where you can choose from multiple kayaking and snorkeling tours, including a trip to the famous Arch and Lover's Beach.

Boating Excursions - No trip to Los Cabos is complete without some kind of boating excursion. Begin at Marina Cabo before heading out on a fishing trip with reputable outfitter Pisces Sport Fishing. During the winter, don't miss out on a whale watching excursion through Whale Watch Cabo. Between January and April, humpback and gray whales make their annual visit to the waters off Los Cabos, promising up-close encounters with the extraordinary mammals.

Day Trip to Todos Santos - Hit the road for a trip to the charming town of Todos Santos, located about an hour north of Cabo San Lucas. Despite a population of about 5,000, this hidden gem packs in the activities, particularly when it comes to galleries, restaurants, and shopping options. Meanwhile, with frequent art and music festivals, affordable lodging, and world-class surfing, you'll quickly understand why the destination was named one of Mexico's "magical towns."

Shopping - Whether you've got your eye on something from a big name retailer or an intricate piece of artwork from a local gallery, Cabo San Lucas has you covered. For upscale pursuits, make your way to Luxury Avenue Boutique Mall and Puerto Paraiso, both found in downtown Cabo. Elsewhere, be sure to check out Arte de Origen and Faces of Mexico for decorative treasures and handmade items special to Mexico.
Where to Stay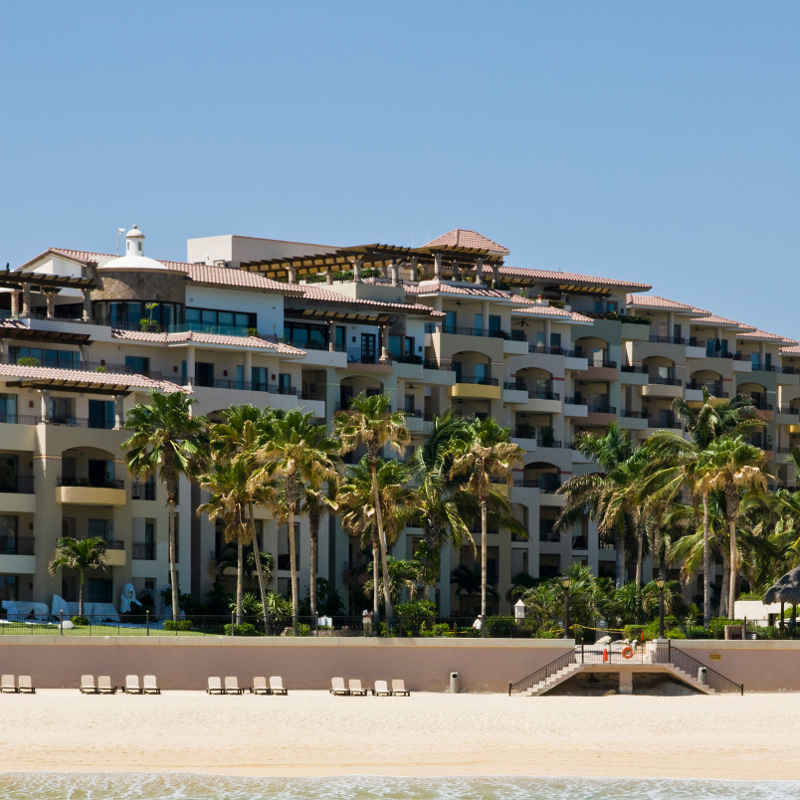 Hotel El Ganzo - This unique boutique property opened in 2013 and stands out with its artsy music vibe, featuring in-house artists, musical performances from world-renowned artists, and weekly movie nights on the roof. Located at the Puerto Los Cabos, the hotel boasts a swimmable beach (which is rare in Los Cabos), two pools (including a rooftop infinity pool), four restaurants, and a spa. Rooms are cool and comfortable and all come with ocean/marina views.

Capella Pedregal - It's impossible not to embrace the relaxing honeymoon vibe at Capella Pedregal, easily one of the finest resorts in Cabo San Lucas. Every room and suite here features an infinity edge plunge pool, perfect for daily dips out on your private terrace offering spectacular ocean views. Plus, with 24-hour, in-room dining and beverage service available, you may never leave your suite. On-site highlights include fantastic dining options, first-rate spa, pools, swim-up bar, and even a private tunnel entrance lit by torches.

Esperanza - Everything at Esperanza is geared for a secluded luxury retreat. From its award-winning spa to its dynamic dining establishments, there are few resorts that are comparable. Accommodations range from villas to suites to casitas, and are all magnificent. Meanwhile, couples will want to participate in the resort's various activities, such as tequila tastings, cooking classes, and fitness programs.
Where to Eat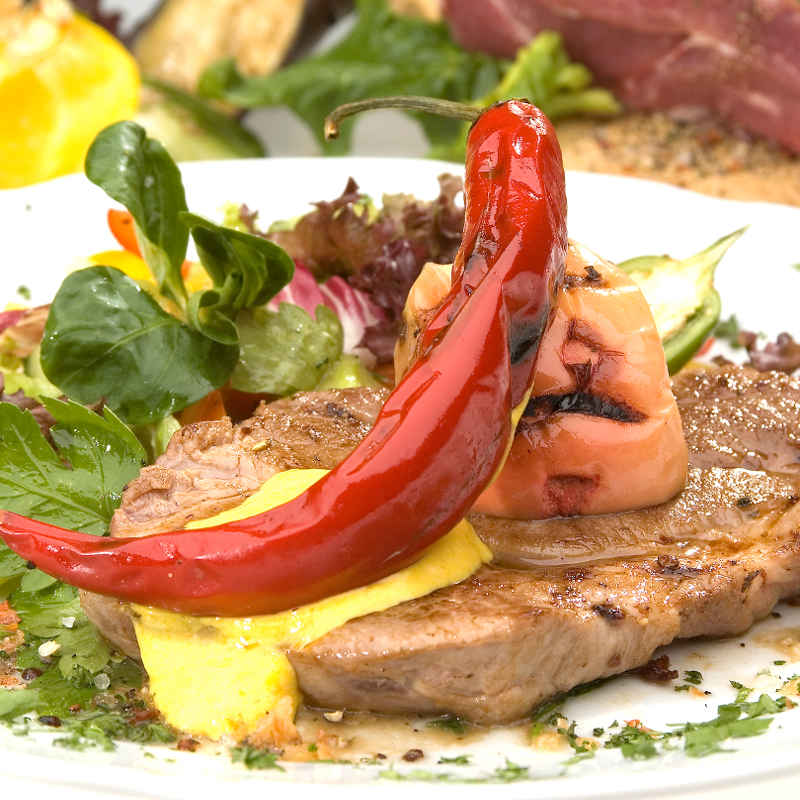 Flora Farms - An oasis hidden in the hills just outside of San Jose del Cabo, this organic farm serves up some of the best food in all of Baja California. Every dish on their menu is sourced directly from the property, whether it's caesar salad, oven roasted chicken, or wood-fired pizza. Also, be sure to come early and experience Flora's fantastic cocktail bar, shops, farm market, and daily farm tour. 

Las Guacamayas - Authentic Mexican cuisine just outside the main historic district of San Jose Del Cabo. The prices are very affordable and the menu items are insanely delicious, whether giant margaritas, enchiladas, or the house specialty volcano bowls. 

El Farallon - Perched on a bluff overlooking the Pacific Ocean, El Farallon is one of the most breathtaking dining spots in the region. The menu is packed with extremely fresh seafood dishes, executed to perfection by chef Marco Bustamante. 

The Drunken Sailor - This colorful restaurant located at the beautiful Puerto Los Cabos marina boasts a variety of fresh seafood dishes like fish tacos, shrimp quesadillas, and ceviche. Also on the menu are well-made house cocktails like hibiscus margaritas and ginger mojitos, best consumed while watching the setting sun dip behind the distant mountains.

Hacienda Cocina y Cantina - Highlighted by authentic regional Mexican dishes, Hacienda Cocina y Cantina offers open-air dining in a laid-back atmosphere right on the beach. On top of breathtaking views of the iconic rock formations at Land's End, newlyweds can reserve tables in the sand for the ultimate romantic experience. While breakfast and lunch are both great options, look to book a table for dinner where you'll enjoy a fantastic meal under the stars.
Getting There
The Los Cabos region is served by Los Cabos International Airport (SJD), Mexico's seventh busiest airport. Direct flights to SJD are currently available from Charlotte, Phoenix, Los Angeles, San Francisco, Houston, Newark, Denver, Dallas, San Diego, Atlanta, and Salt Lake City.