India is home to over 1 billion people and sits on diverse terrain ranging from vast Himalayan mountain peaks to overwhelming deserts and exotic countryside coastline. Architecturally marvelous, astoundingly diverse, dazzlingly colorful, and at times chaotic, the pulse of India moves at an unmistakably unique pace. Fueled by an amalgamation of deep-rooted cultures, a visit to this great South Asian destination – the world's largest democracy – offers an immediately intoxicating and inimitable experience.
Bustling street markets, backwater adventures, thrilling desert safaris, inclusive local traditions and plenty more await during an Indian honeymoon which can tickle the depths of your mind while tackling the will of your body. Thankfully, secluded sandy shores and hidden mountain retreats are never too far away when your honeymoon begs for rest and relaxation.
A trip to India typically entails a visit to its famous trio of northern cities – Delhi, Agra, and Jaipur – referred to as the Golden Triangle. Delhi, a tale of two cities, is a great starting point for a crash course on Indian customs and lifestyles, with everything from traditional foods to classic mosques and ancient tombs. Old Delhi is a walled section within the city, with street vendors and classic shops offering a window into history, while New Delhi, its modern counterpart and India's capital city, is easily distinguished by its wider tree-lined streets. Agra is home to the majestic Taj Mahal, arguably the world's most recognizable building which begs to be seen to be believed. Jaipur, popularly known as the Pink City, is filled with grand palaces, colorful monuments and magnificent forts. It is also the capital of India's largest state, Rajasthan, where camels and rickshaws share streets with taxi cabs, still preserving the magical and romantic ambience of this Land of Kings. Exotic wildlife, lush forests, and the peaceful lakes of Udaipur offer tranquil retreats from the heat on the outskirts of Rajasthan, though this is still largely a desert state.
Further north, the state of Jammu and Kashmir is a honeymoon sanctuary, and a welcome balancing contrast to the speed of Indian cities. Here, beautiful and diverse lands welcome you with open arms – everything from snowcapped mountains, quiet lakeside villages, hill resorts, high mountains, deep valleys and rolling tulip fields offer a feast for your spirit.
In Central India, along the country's west coast, the city of Mumbai offers everything from beaches to Bollywood entertainment, and – as India's most populous city – has become quite a culinary mecca in the land of 1,000 spices, flavors, and aromas. From famous monuments like the Gateway to India, to colorful markets along Colaba Causeway, the megalopolis is the beating heart to modern Indian civilization. Well connected via rail and with its own airport, Mumbai could play into any India itinerary.
While the northern half of India is an ideal starting point and contains many of the country's most famous sights and cities, Southern India is renowned for its beaches, more relaxed villages, and hotly contested spicier food scene. Goa has long been India's most popular beach destination, with golden sand beaches stretching its entirety along the Arabian Sea. Infused with Portuguese flavor both on and off the plate, Goa is at once a lively waterfront destination and zen paradise, with yoga, t'ai chi, meditation and many other spiritual practices freely found throughout this beach bohemian paradise.
Further south is Kerala, which calls itself "God's Own Country" based on its serene landscape and laid-back lifestyle. Most famous for its backwaters – a network of flowing rivers, lakes and lagoons in which houseboats gently glide down – Kerala is also home to rolling spice and tea-filled fields, temple festivals, and even ayurvedic spas, which altogether translates to an invigorating, intrinsic and holistic destination.
Weather in India varies according to region, but across the country there are still several guidelines to help better plan a single trip to span its entirety. Generally, you can think of North India as cool, Central India as hot and dry, and South India to be tropical. The best time to visit also generally follow similar patterns, with large periods of rainfall spanning a lengthy shoulder monsoon season of roughly June-October, a scorching hot summer season from March-May, and a more ideal winter from November-February.
What to do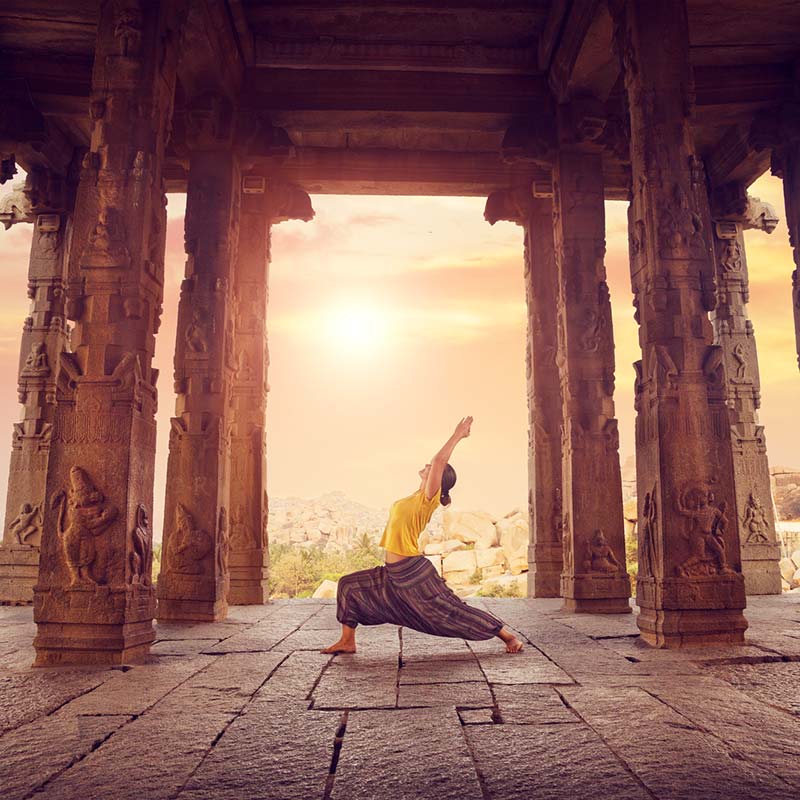 Know the Taj Mahal - Easily India's most famous attraction, the mausoleum was constructed as a symbol of love by former Emperor Shah Jahan to honor his beloved but fallen wife, Mumtaz Mahal. The story behind the stones is special, and the sight truly breathtaking. Skip any offered tour guides in favor for a more personal experience – you'll likely stay in a state of blissful awe while soaking in the white marble, precious stone, elaborate art and architecture of the astounding structure. Arrive early via its east or west gates (which open 2 hours prior to the south gate) to get ahead of the crowds, or return in the evening for a spectacular sunset photo. Stay at the Oberoi Amarvilas to behold the Taj Mahal's beauty around the clock.
Sail the Backwaters of Kerala - Hundreds of former rice barges that once traveled these waters to transport grain have been turned into tourist ferries which pleasantly meander through the peaceful, palm-tree-lined network of Kerala's backwaters. Glide through the maze at a leisurely pace, soak in the scenery of the beautiful backwaters, dine onboard, and even stay overnight to relax in luxury as you work your way down the river.
Engage Your Mind and Body - India is proud of its spiritual past, and holistic health is still very much present and practiced throughout the country. Yoga and Ayurveda both trace their origins here, and though the path towards the peaceful unity of mind, body, and soul can begin anywhere, India makes the journey easier. Spa resorts (like Ananda in the Himalayan mountains) unite these two practices with daily programs for guests, while Rishikesh (the "Yoga Capital of the World") presents a plethora of options, from laughter yoga, to meditation mornings and ayurvedic massages.
The Perfect Dinner - Indian cuisine is sure to spice up your dining experiences throughout the trip, but take an evening to plan a dinner where the setting can match the experience on the plate. How about a fairy tale dinner on a floating resort, or an authentic Shikar dinner on the sands of the That desert? Consider getting your hands dirty with a couples cooking class to learn the ins and outs of the Indian spices, fruits, and vegetables which make these meals so sumptuous.
Rev Your Engines - India is already somewhat an exercise in exhilaration, but for adrenaline junkies this country is ready to hit you with an overdose of action. Go skiing in Gulmarg, scuba diving in Goa, hiking across Shillong, or even on a wildlife safari in Corbett National Park – India is packed with destinations that match thrills with romance, perfect for adventurous honeymooners.
Tea Time - In Northern India, the town of Darjeeling offers first class views of the surrounding Himalayan mountains, and a world famous cup of tea. Darjeeling tea is among the most sought-after black teas across the globe, and the over 80 gardens producing it offer tea tasting sessions, guided tours, and even on-site accommodations. The environment is suitably lush and misty, and the overall ambience nothing short of magical. Take the famous Toy Train into town (with daily routes from New Jalpaiguri, NJP, to Darjeeling, DJ) for an unrivaled arrival experience along one of the most scenic mountain rail trails in the world.
Break From the Mainland - Over 1,000 Indian islands dot the surrounding mainland and offer more familiar sun-soaking, beach-centric holidays. From surfing lessons to snorkeling with sea turtles or just lounging along the lengthy sands, relax like royalty after your excursions throughout mainland India. From the relatively untouched Lakshwadeep Islands, to the massive Andaman and Nicobar Island chain with over 500 islands (and hotspot favorites like Barren Island, Great Nicobar, and little Andaman), a beach break is always a welcome change of pace.
Where to stay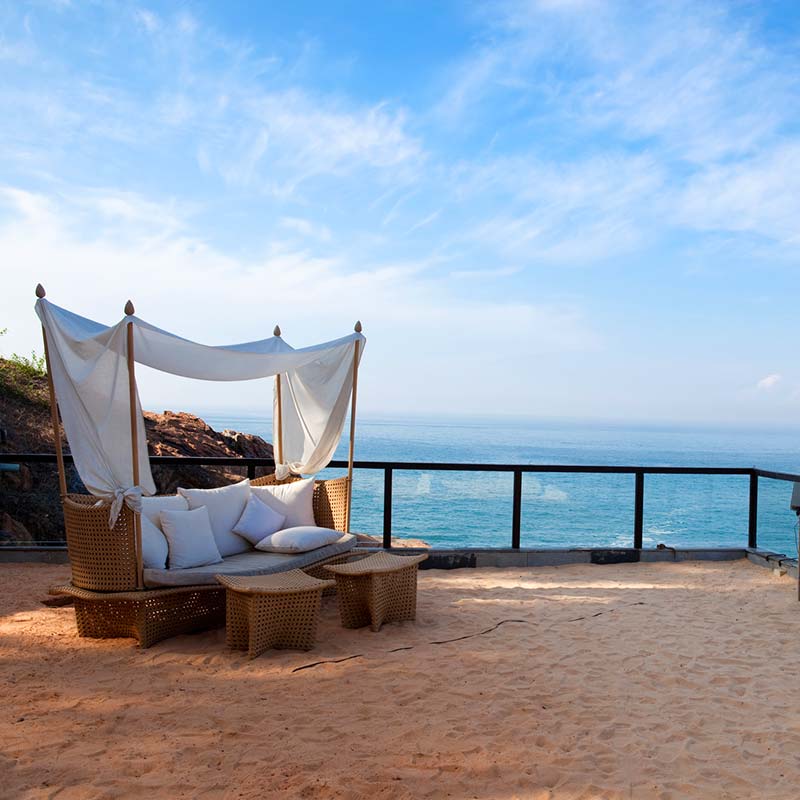 Oberoi Amarvilas - This luxury hotel in Agra can dramatically improve your experience visiting the Taj Mahal. It's the closest in proximity to the world famous monument, is locally designed with comfortable crafts like intricate silk cushions and hand-knotted rugs, and many rooms offer straight-shot uninterrupted views from your bed or balcony to enjoy the architectural marvel.
Ananda in the Himalayas - Widely regarded as India's best wellness retreat, this luxury resort sits high in the spiritual town of Rishikesh, which was put on the global map when the Beatles visited in the '60s to practice Transcendental Meditation. Each of the 78 rooms feature panoramic views from private balconies or patios, and with the on-site spa, long list of included activities (like yoga and nature walks), and multiple dining options (tailored to your Ayurvedic body type, deduced during a complimentary wellness check-in) this resort is a destination unto itself. Fresh white pajamas for everybody keep things relaxed and simple, and a plethora of information will keep you well on your way toward healthy, better living long after you depart.
Taj Exotica Resort and Spa – Taj Hotels are global and a mainstay of excellence prominently throughout India. This Mediterranean-themed resort along the shores of Southern Goa sits on 56 private aces, boasts 5 restaurants, and custom tailors experiences like private beach dinners for guests. Time slows to a tropical tempo here, with sea views, luscious gardens, and old world charm present throughout the complex.
Suján Serai Luxury Desert Camp - Set on 100 private acres in the Thar Desert, this luxury camp and spa brings fairytales of Arabian nights to life. A noticeable notch above glamping, the site is a desert oasis of comfort, with air-conditioned tents, private pools, and chef-prepared dining. An otherworldly experience in accommodation, the staff also facilitate voyages into the village, tours through temples, and even nightly entertainment around a massive communal fire.
Taj Lake Palace Udaipur – The self-proclaimed most romantic hotel in the world gets a recommendation from us, if not only the sheer extravagance of this palace's setting. Floating in the middle of Lake Pichola in Udaipur, this black and white marble structure has been graced by royalty and celebrities, and has even been a scene-stealer in several films, understandably. Your arrival is rightfully magnificent, as you're zipped across the lake on a private speedboat, and your stay is never short of entertainment with services like private dinners, a floating spa, and personal historical tours that travel around the island property.
Where to eat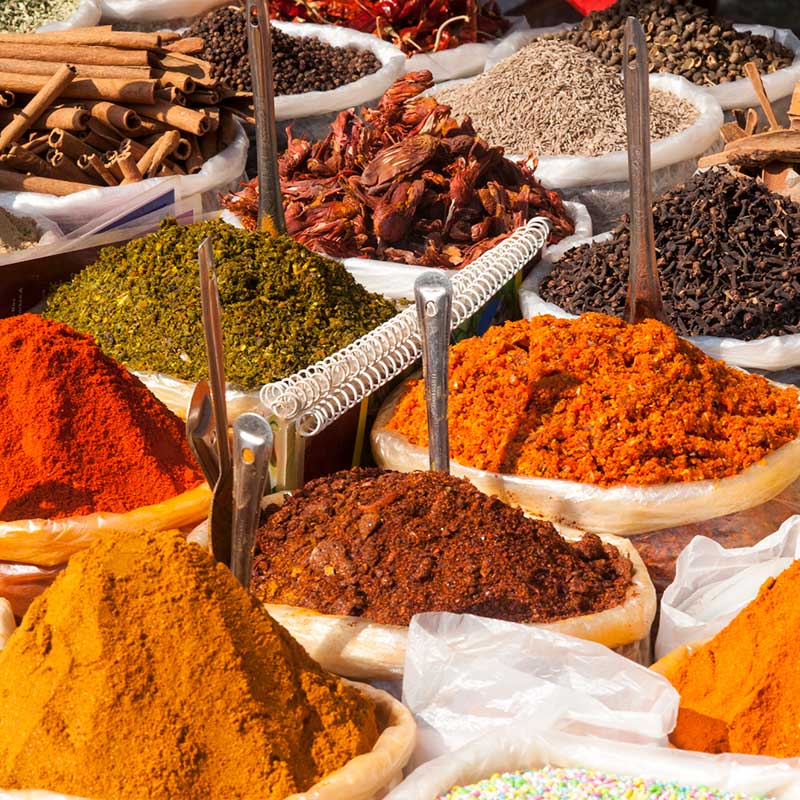 Indian Accent – Located inside the Lodhi Hotel in New Delhi, Indian Accent has been crowned India's finest restaurant for quite some time now. Chef Manish Mehrotra has reinvigorated many of India's classic dishes, and the 6-course tasting menu (paired with wine) is a perfect introduction to Indian cuisine. The restaurant has been so well received that Indian Accent has expanded into New York City and London.
The Bombay Canteen – Resembling an old Mumbai bungalow, this restaurant has taken Mumbai by storm, and is setting a new standard for dining in India's most populated city. Chef and partner Thomas Zacharias worked his way around India, discovering the flavors, preparations, and significance behind many of the country's most beloved dishes. Aiming to present the country's classics with a slight but modern twist, the restaurant's menu (which changes seasonally, based on the never-ending growth and discovery of Indian flavors) has been a smash hit. Creative cocktails keep the vibe fun and loose in this lively city.
Gunpowder – This Bohemian roadside eatery has been one of Goa's best-kept secrets since it opened in 2012. Like a sanctuary for the senses, the indoor/outdoor ambience in this Portugese-style home is immediately beach-friendly and relaxed, while the food brings India's best flavors from generations-old recipe papers to plate. Relax with a cocktail, enjoy the breeze through the backyard trees and colorful canopies, and let the flavors of India come to you.
Getting There
Indira Gandhi International Airport (DEL) in New Delhi is India's biggest and busiest airport, serving as a major entry into Northern India. Chhatrapati Shivaji International Airport (BOM) in Mumbai also offers many international flights, and entryway into a more central part of India. To more easily access Southern India, fly directly into Goa Airport (GOI). There are many other international and smaller domestic airports throughout India which make air travel the preferred method of getting to and from different parts across the country.
Trains are a classic experience when traveling through India, with routes that connect the entire country, and many levels of ticket servicing from commuter to "luxury palace on wheels." Indian Railway Catering and Tourism is the main operator, and while reservations can be cumbersome, the experience itself is reliably efficient and immeasurably authentic.