Traveling to the gorgeous island of Santorini for your honeymoon? Add these acclaimed restaurants and dining spots to your list. From authentic taverns right along the water to incredible wineries overlooking the caldera, we're confident that each dining spot will deliver an experience to cherish forever.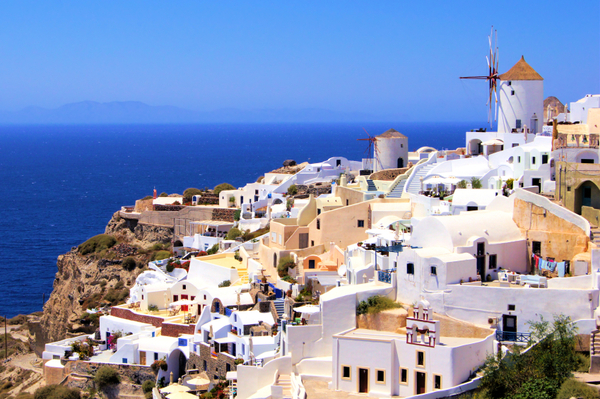 Located in the well-preserved village of Pyrgos, which is also home to one of the highest points on the island (and best views, too). Ranked among the best restaurants in Europe year after year, Selene focuses on local ingredients and creative dishes like rabbit marinated in red wine and lamb with lemon scented potato croquette. Couples can also sign up for cooking classes, wine tastings, and a museum tour.
The motto at this wonderful tavern is "Keep it local, keep it fresh." Newlyweds will enjoy expertly prepared salads, meat plates, and traditional seafood dishes like octopus cooked in wine.
Don't miss this scenic restaurant located right along the waterfront in the fishing village of Ammoudi. Along with friendly service, newlyweds can expect excellent fish and seafood dishes inspired by traditional Mediterranean cuisine.
Once the first traditional bakery of Fia, this award-winning restaurant now serves one of the best dining experiences in the region. Couples will enjoy traditional Greek dishes with modern flair. Be sure to book a table in the roof garden, which offers stunning views of the caldera.
This exceptional winery is situated high atop the caldera cliffs just south of Fira. Stop in for a wine and food tasting right before soaking in another brilliant Santorini sunset. The property also features a deli shop where couples can purchase an assortment of wines plus traditional food products like capers, sun-dried tomatoes, and fava beans.

In case you missed it:
POLL: Was Your Honeymoon More Relaxing or Adventurous?
Your Honeymoon Registry Questions Answered: What's Instant Registry?