Congratulations to Alanna and Ryan, winners of the 2017 Traveler's Joy Honeymoon Story Contest! The newlyweds, who recently traveled to Europe for their ultimate getaway, have won a $500 gift certificate to Airbnb.
We'd like to extend a big thank you to everyone who shared their AMAZING honeymoon stories. Stay tuned to the honeymoon blog as we'll post the entire winning entry along with other top finalists in the coming weeks. In the meantime, read below for a few highlights from their extraordinary honeymoon.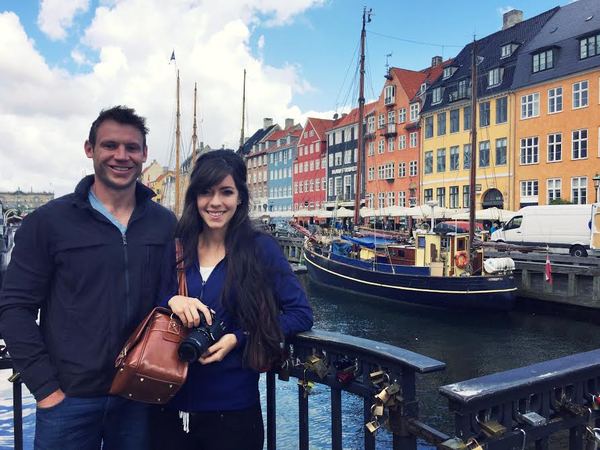 "This marriage will be off to a terrible start if you run over a sheep! SLOW DOWN!" Uneasy in my left-sided passenger seat, I covered my eyes and yelped while Ryan whipped our tiny car around another sharp turn on the impossibly narrow road. A road lined with cute, but precariously close sheep. So many sheep.
Ryan laughed and reminded me that the speedometer was in kilometers, not miles, and that we were far below the speed limit. He casually added, "Don't worry, the sheep are just grazing and they know not to cross the road." A comment I found suspect, because how did he know about sheep and their sense of boundaries? I let it go, relaxed back into my seat, and centered my gaze out the window at the far expanse of Connemara.
A feeling of sacred awe took over. Dark mounds of limestone, a misty mix of sky and sea, juxtaposed against the neon green lush. This Irish landscape sidestepped my expectations and offered more heart wrenching beauty than I could process calmly. A beauty similar, I would come to understand, as traditional Celtic music: a mix of stark loveliness and ancient sadness. Butterflies hummed in my stomach as we drove through the mysterious green giant.
Our road trip through Ireland was the final leg of our three-week honeymoon last June. Our itinerary of Denmark, Italy, and Ireland was a practice in compromise. I was drawn to visions of Tuscan hills and fresh pasta, and Ireland had always been on Ryan's bucket list. We threw Copenhagen into the mix as a wild card, knowing very little about the city, when a cheap plane ticket presented itself.
Traveler's Joy was a game-changer for us. We initially uploaded a traditional registry to our wedding website: a few kitchen and domestic items to help us begin our attempt at "adulting for real". Our list was a bit sparse since we didn't feel inclined to register for a lot of expensive things we knew we'd never use. Plus, I have a deep fear of clutter. Those shows about hoarders make my hands sweat."

To read amazing stories from last year's finalists, click here.