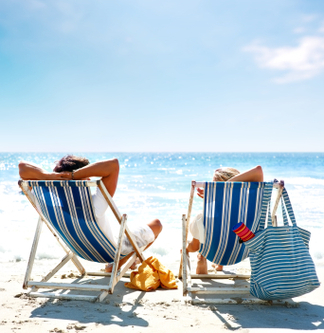 Perfect for the car, plane, or just lounging on the beach, a distinctive music playlist will really enhance those unforgettable moments on your honeymoon.
Our latest honeymoon collection features a variety of classic travel and love-themed tunes, plus many other catchy alternative tunes, including songs by Justin Timberlake, O.A.R., Zac Brown Band, Jason Mraz, and Bob Marley.

O.A.R. - Lay Down
"Lay down, rest here
In my arm now lay down
Lay down, the universe is ours"
Lord Huron - Ends of the Earth
"To the ends of the earth, would you follow me
There's a world that was meant for our eyes to see"
Zac Brown Band - Castaway
"I wanna be a castaway
And leave the world behind
Take a tropic holiday
Say goodbye to keeping time"
David Gray - Sail Away
"Sail away with me honey
I put my heart in your hands
Sail away with me honey now, now, now"
Justin Timberlake - Can't Stop the Feeling!
"I got that sunshine in my pocket
Got that good soul in my feet"
Josh Rouse - Sunshine
"You're my steady
You're the one who makes me feel
Sunshine"
Edward Sharpe & The Magnetic Zeros - Home
"Home is wherever I'm with you"
Bob Marley & The Wailers - Three Little Birds
"Don't worry about a thing
'Cause every little thing gonna be alright"
Jason Mraz - I'm Yours
"So I won't hesitate
No more, no more.
It cannot wait,
I'm sure.
There's no need to complicate.
Our time is short.
This is our fate,
I'm yours"
Bedouin Soundclash - When the Night Feels My Song
"Heeeeeyyyy, hey hey hey (hey!)
HEY Beautiful Day (hey! hey!)
HEY Beautiful Day.
When the night feels my song,
I'll be home, I'll be home"
Chicago - Just You n' Me
"You are my love in my life
And you are my inspiration
Just you 'n me
Simple and free"

Have any suggestions for our mix? Submit your favorite songs via Facebook, Twitter @travelersjoy, or e-mail at blog@travelersjoy.com.

In case you missed it:
Traveler's Joy Honeymoon Playlist v.3
Traveler's Joy Honeymoon Playlist v.4: Best Summer Songs