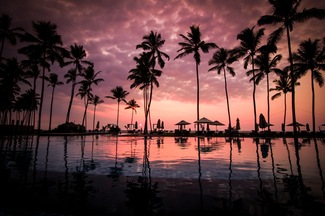 In the latest edition of the Honeymoon Mailbag, Traveler's Joy editor Adam Warner talks about Instant Registries and why they are a perfect solution for couples looking to create an awesome registry within a few minutes.
Be sure to send your questions for the next edition to blog@travelersjoy.com.
Q: What's an Instant Registry?
A: TJ's Instant Registry feature allows you to complete your registry in just minutes. When setting up your gift inventory you can choose from a list of premade theme-based or location-specific registries. With one click you can instantly add all of the items to your own registry. You can edit or delete any item at any time and also add plenty more of your own.
Remember, with Traveler's Joy you redeem all of your gifts as cash so you have the flexibility to purchase your experiences, activities, and items when you are ready.
Earlier this year, five brand new Instant Registries were added to our ever-expanding collection; Iceland, Santorini (Greece), Bermuda, Jackson Hole (Wyoming), and Bali (Indonesia).
Among the highlights: historic temple tours in exotic Bali, glacier hiking in Iceland, and hot air ballooning among the Tetons in Jackson Hole.
To check out these exciting new locations, plus dozens more travel destinations like Maui (Hawaii), Italy, France, and Mexico's Riviera Maya, simply visit the Instant Registry section located within the "Item List" tab of your account. Just look for the blue link at the top of the page.

In case you missed it:
7 Caribbean Restaurants Perfect for a Romantic Honeymoon Meal
VOTE: Which Hotel Amenity is Most Important to You for a Honeymoon?