Heading to Europe for your upcoming honeymoon or anniversary trip? This week we're listing 10 of our favorite honeymoon activities and experiences, which covers everything from sunset wine tasting in Greece to paragliding in the Swiss Alps. All make great additions to your honeymoon registry.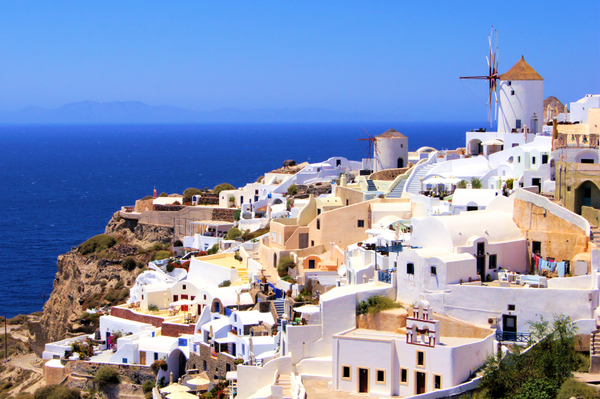 Sunset Wine Tasting (Santorini, Greece)
The devastating volcanic explosion in 1650 BC covered Santorini in ash and distinct soil, creating the perfect conditions to produce wine. The island is known for its Assyrtiko grapes, which produces some very distinct but excellent dry white wines. Consider visiting Santo Wines high atop the caldera cliffs just south of Fira for a tour and wine tasting right as the sun sets behind the distant mountains.
Museums of Rome (Italy)
At the center of so much history, it's no wonder that Rome is home to some of the world's top museums. At the top of the list are the Vatican Museums. Here you'll find a wide variety of amazing treasures, including modern religious art, Renaissance art, Greek and Roman sculptures, plus many works by Raphael, and, of course, the Sistine Chapel. Meanwhile, Galleria Borghese is a Traveler's Joy favorite for its masterpieces by Caravaggio, Raphael, Rubens, and Bernini, among many others.
A Taste of Cafe Culture (Paris, France)
Café visiting can be one of the more relaxing and enjoyable experiences when in Paris -- particularly when the weather is ideal and the city is abuzz. Grab a table outside and then share a meal or espresso as you take in the sights and sounds around you. Café culture has been prevalent in Paris for centuries and has inspired some of the world's greatest writers and minds. Café les Philosophes is a Traveler's Joy favorite in the Marais, in addition to Café Charbon on Rue Oberkampf.
Tapas Time in Madrid (Spain)
Eating is a major part of Madrid's social scene -- particularly tapas. You'll be hard pressed to find better tapas anywhere else in the world. This meal is generally served as a snack before a late dinner and features fine wine, cured ham, sausages, bacon, olives, and fresh bread. Paella, gazpacho, meat-based stew, and fresh seafood are also among the city's finest food offerings. Make sure you participate in a tapeo -- or Spanish tapas crawl -- at some point during your visit. Stop by Bodega Rosell or Casa Lucas for some of the tastiest tapas in the city.
Tour of the Dingle Peninsula (Ireland)
This is some of Ireland's most scenic and remote landscape. The town of Dingle is the "hub" of the region, with its brightly painted shops and restaurants overlooking Dingle Harbour. The Dingle Peninsula offers a winding coastline, steep cliffs, sandy beaches, and colorful seaside villages. It's rugged and rural but still home to a thriving Irish language community. In other words, get ready to practice your Gaelic.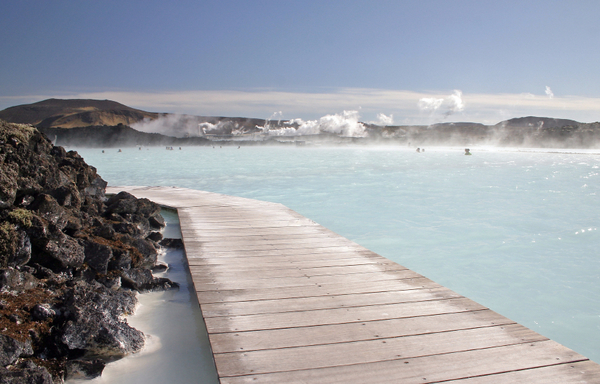 Blue Lagoon (Iceland)
A trip to Iceland isn't complete without experiencing the Blue Lagoon, one of the country's most visited attractions. The geothermal sea water is truly a natural wonder. In fact, the water temperature here can reach as high as 104 degrees Fahrenheit.
Amalfi Drive (Amalfi Coast, Italy)
Twisting and turning around the Lattari Mountains for 22 miles, the Amalfi Drive is easily one of the world's most scenic yet hair-raising drives. The route is quite memorable thanks to countless mountain and sea vistas, gorges, bridges, cliffs, and scenic villages, but also because of its narrow lanes, white-knuckle turns, and heavy traffic during the high season. Nevertheless, the drive is a must and sure to be an unforgettable experience on your honeymoon.
Seeking Adventure in Interlaken (Switzerland)
The breathtaking resort town of Interlaken lies on a narrow strip of land between the Brienzersee and the Thunersee and is famous as being a home base for mountaineers, hikers, and adventure enthusiasts all over the world. Use Interlaken as your gateway to the awe-inspiring Lauterbrunnen Valley, featuring classic Swiss alpine scenery such as green meadows, colorful villages, waterfalls, massive cliffs, working farms, snow-capped peaks, and fantastic hiking.
Get your adventure on via Paragliding Interlaken. Take off from one of four altitudes (including a 10,000 ft. launch site) and see this incredible alpine region from a completely different perspective.
Hiking the Cinque Terre (Italy)
All five towns in Cinque Terre are connected by well-maintained trails. See the entire region by foot as you make your way from one village to the next and stopping at a number of wonderful detours. The hike is about seven miles from Monterosso to Riomaggiore and usually takes about four hours, but definitely tack on a few more hours for unexpected stops.
Simply follow the red-and-white-marked lower trail between the towns. Remember to take your time and savor the sights, smells, and sounds -- from the olive groves to the exotic flowers and to the amazing Mediterranean vistas. Begin in Monterosso and work your way south all the way to Riomaggiore. The trails are overall moderate in terms of difficulty, with Monterosso to Vernazza being hands down the most challenging.
Exploring Samaria Gorge (Crete, Greece)
Without a doubt some of the most incredible landscape on the island can be found at Samaria Gorge, considered one of the longest ravines in Europe. It was established as a National Park in 1962 and now contains many hiking trails, narrow rock walls, historic chapels, and abandoned villages. The path begins from Xyloskalo and leads down an 11-mile trail to the seaside village of Agia Roumeli. As your reward for reaching the end, sip some wine and enjoy delicious Cretan cuisine at a local taverna.

In case you missed it:
5 Easy Ways to Get the Most Out of Your Honeymoon Registry
Your Honeymoon Registry Questions Answered: What's an Instant Registry?