Highlighted by a scenic coastal walk and a romantic restaurant set inside a medieval castle, these five activities and destinations should be at the top of every honeymoon must-do list for Cinque Terre, Italy. The region -- comprised of five remote villages clinging to the rugged hillsides along the Mediterranean Coast -- is an ideal getaway for couples seeking a complete escape and a honeymoon that will be remembered forever.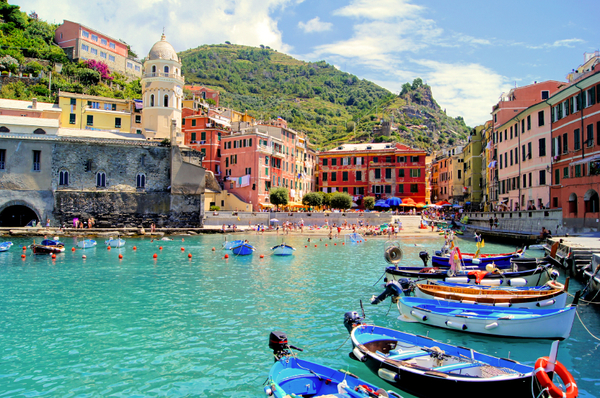 1. Eat
Ristorante Belforte
Enjoy a romantic honeymoon meal at Ristorante Belforte, located within a medieval watchtower that features draw-dropping views of the Mediterranean Sea. In addition to its incredible ambiance, the restaurant is well-known for using local products and its famous Ligurian recipes.
Vernazza, www.ristorantebelforte.it

2. Drink
Enoteca da Eliseo
Make plans to stop at this lovely wine shop and tasting room set in the heart of Monterosso. Family owned and operated, the wine bar offers local tastings and mouth-watering nibbles at indoor and outdoor tables set along a picturesque stretch of the historic village.
Monterosso

3. Stay
La Torretta
The trendy, upscale property boasts commanding views of the water and historic village of Manarola, a communal hot tub, and even a solarium. Rooms are in traditional Ligurian style, but also feature a mixture of modern and antique furnishings, such as flat-screen TVs and canopied beds. Although pricey by Cinque Terre standards, you'll likely find La Torretta's fine amenities and service to be well worth it.
Manarola, www.torrettas.com

4. Explore
Hiking Cinque Terre
All five towns in Cinque Terre are connected by well-maintained trails. See the entire region by foot as you make your way from one village to the next and stopping at a number of wonderful detours. The hike is about seven miles from Monterosso to Riomaggiore and usually takes about four hours, but definitely tack on a few more hours for unexpected stops.
Simply follow the red-and-white-marked lower trail between the towns. Be sure to take your time and savor the sights, smells, and sounds -- from the olive groves to the exotic flowers and to the amazing Mediterranean vistas.
Monterosso, Vernazza, Corniglia, Manarola, and Riomaggiore. www.parconazionale5terre.it

5. Visit
Tuesday Market
Spend time at the Tuesday morning market in Vernazza, which is buzzing with activity as vendors set up a wide variety of goods along the harborfront. Sellers typically display fresh produce, seafood, and other delicacies from 8 a.m. until 1 p.m. Meanwhile, in addition to white wine, food items like anchovies, focaccia, and pesto are also staples of the region.
Vernazza

In case you missed it:
5 Essential Honeymoon Experiences: Los Cabos, Mexico
POLL: Which Type of Accommodation Did You Choose for Your Honeymoon?