Home to lush rainforest, secluded coves, world-famous mountains, and extraordinary luxury resorts, the Caribbean island nation of St. Lucia is a magnet for honeymooners. Read about five of our favorite island experiences below that newlyweds should add to their must-do list.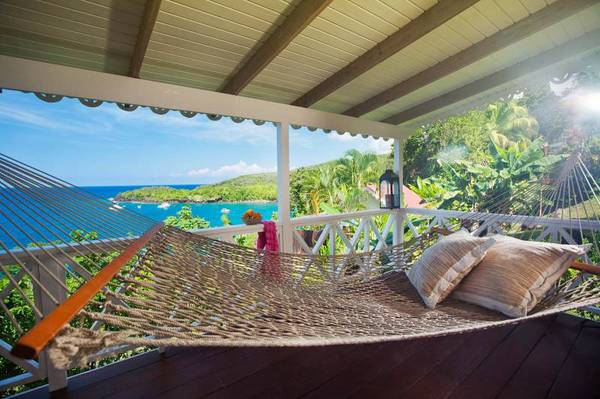 1. Cocktails with a View at Bayside Bar
Sunset views, expertly mixed libations, and a stunning beachside location all make Bayside Bar at Sugar Beach one of the Caribbean's top overall spots for cocktails. Plus, with delicious wood-fired pizza on the menu, you'll likely end up staying for dinner too.
2. Tree to Bar Foodie Experience
Chocolate lovers and foodies will not want to miss out on Rabot Estate's Tree to Bar Experience, a unique hands-on tour that teaches visitors all about how cacao is cultivated. After walking through the estate cacao groves, participants can personally pick ripe cacao pods from the tree and later make their own chocolate bars.
3. Stay at a Luxury Resort
After all, this is your honeymoon. One of our favorites is Ti Kaye Village Resort & Spa. Secluded and relaxing, this property is a perfect match for honeymooners. Just 11 miles south of Castries, the secluded resort is nestled into the cliffside overlooking picturesque Anse Cochon cove. Ti Kaye's 33 cottages include ocean views, private outdoor gardens showers, and huge balconies with hammocks. Select rooms even feature personal plunge pools.
4. Hiking
With trails covering the entire island, St. Lucia boasts some tremendous hiking opportunities, particularly under the canopy of its well-protected rainforest. For more experienced hikers, also consider climbing one of the island's twin Pitons. These mountains are a UNESCO World Heritage Site and covered in lush vegetation. Believe it or not, Petit Piton is actually 158 feet taller than Gros Piton. Just make sure you register with the St. Lucia Forest and Lands Department if you want to tackle one of these remarkable mountains.
5. Dinner at Boucan
This delightful restaurant has emerged as one of the island's premier dining destinations. The creative menu is highlighted by fresh seafood selections, prime meats, and local produce. Meanwhile, with cacao trees grown on the grounds, the superfood is incorporated into each dish.

In case you missed it:
Traveler's Joy Celebrates 10 Years of Honeymoon Gifting
POLL: What's Your Perfect Honeymoon View?
Image courtesy of Ti Kaye Resort