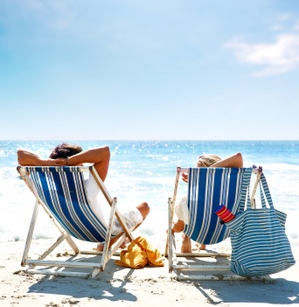 Did you happen to catch the latest episode of Shark Tank on ABC? The honeymoon registry industry got its turn in the spotlight as Honeyfund pitched their business to the panel. It was refreshing to see a fellow registry leader receive national exposure plus positive feedback from an A-list cast of business gurus.
Watching this reminded me just how much the honeymoon registry industry has evolved since Traveler's Joy was founded 10 years ago. Back then, honeymoon registries were mainly offered through a local travel agent. Today, newlyweds will find a variety of honeymoon registry business models, including the "free" honeymoon registry. While this model might be a good fit for some couples, there are a few important questions you should ask before considering a free honeymoon registry.
Are friends and family allowed to use their credit cards to give a gift? The bottom line is that the majority of people now use plastic to pay. In fact, on average, we've found that gifts are 34% larger when the guest uses their credit card than if the gift was provided with cash or a check. So what happens when Uncle Mike wants to use his Platinum Visa to pay for your candlelight dinner on the beach? A fee is assessed to the couple or guest. There is no way around credit card fees. Even giants like PayPal charge 2.5-3% to process a credit card.
Do you want a stripped down registry or common registry features? It turns out that most free honeymoon registries have an upgrade fee for basic features like a photo slideshow, custom registry page design, to remove advertisements from the registry page, and access other "premium" features. Unless you'll be satisfied with a very basic registry, then the upgrade fee will most certainly come into play.
Are you okay with having advertisements on your honeymoon registry page? In addition to ads on the honeymoon registry page itself, be on the lookout for direct email advertisements that could include weight loss programs, wedding rings, and reception entertainment. There's often an additional cost to remove ads from your registry page.
Can the couple, friends, or family easily call customer service? What happens when Aunt Mary would like to give a gift over the phone or is confused with the website? Typically, "free honeymoon registries" do not offer a customer service phone number.
A free honeymoon registry has its place as you decide which service to use -- as long as you know what to look out for. If you choose not to use the free model and would prefer a registry that accepts credit cards, does not have ads, has 24-hour email customer service, a toll-free customer service number, and allows you to personalize your registry, we hope you will consider Traveler's Joy! But no matter what, we think this post will help you navigate the honeymoon registry field.

In case you missed it:
How Much Should I Register for on My Honeymoon Registry?