We're always thrilled when newlyweds share their wonderful honeymoon stories with us. This week we're featuring a selection of favorites covering New Zealand, a gorgeous country just teeming with one-of-a-kind honeymoon experiences. We hope these stories provide a little inspiration as you start planning your own getaway.
Sarah & Jack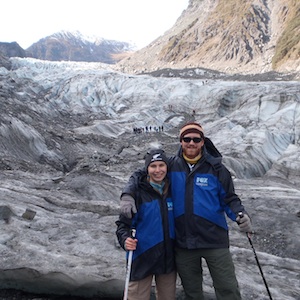 Equipped with a camper van called a Spaceship, the newlyweds took 17 days to explore the entire country, covering both islands plus cities big and small. Honeymoon highlights included a trip to Waitomo Caves, hiking Fox Glacier, kayaking with frisky seals in Abel Tasman, flying a stunt plane, and visiting Queenstown, which they believe is the coolest town in existence.
"We would definitely recommend New Zealand to any couple who has at least two weeks to spend on their honeymoon," Sarah said. "We loved the flexibility of having a camper van and changing our itinerary as we pleased. While it was a little chilly visiting New Zealand in the winter, it made spontaneous changes in plans easy and was nothing a little snuggling couldn't fix."
Read Sarah and Jack's entire honeymoon story here.
Karissa & Jon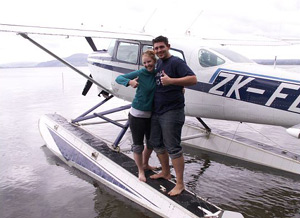 These honeymooners really packed in the adventure for their ultimate getaway. Unforgettable moments included the Black Labyrinth tour at Waitomo Caves, which had them jumping down a pair of waterfalls while being surrounded entirely by glowworms, plus an air safari, zorbing, doing spins in a jet boat, and having an authentic Maori experience.
"I highly recommend New Zealand to couples who have a little bit of adventure in their hearts," Karissa said. "After all the hecticness of the wedding, being able to take two weeks to explore one of the most beautiful countries in the world was a once-in-a-lifetime opportunity."
Read more about their honeymoon getaway here.
Stacey & Shane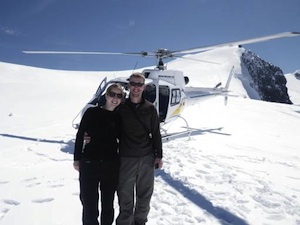 Our 2012 honeymoon story winners commenced their once-in-a-lifetime trip in Auckland and explored the North Island while combating jet lag. They also had to quickly figure out how to drive a stick shift on the left side of the road. After only one stop, Shane said, "I've counted seven times now that I've turned on the wipers instead of the blinker as I intended."
The newlyweds also made it down to the South Island for scenic drives, whitewater rafting, ziplining in the rain, helicopter excursions, backcountry hikes, and sea kayaking in Milford Sound.
"New Zealand is a place that will reside in your heart forever," Stacey said. "Money is best spent on memories in our view and this is one that you will be able to live over and over again -- one that will bring a knowing smile to each of your faces."
Read their full story here.

In case you missed it:
Real Honeymoon Stories: Best of Spain
Real Honeymoon Stories: Best of Cancun & the Riviera Maya, Mexico
Real Honeymoon Stories: Best of Greece