Traveling to the Dominican Republic for your upcoming honeymoon or anniversary trip? Consider taking part in these four unforgettable experiences. Featuring some of the world's top-ranked beaches and incredible whale watching excursions, we're confident that each activity will make for a honeymoon experience to be remembered. The experiences also appear in our new Dominican Republic honeymoon destination guide.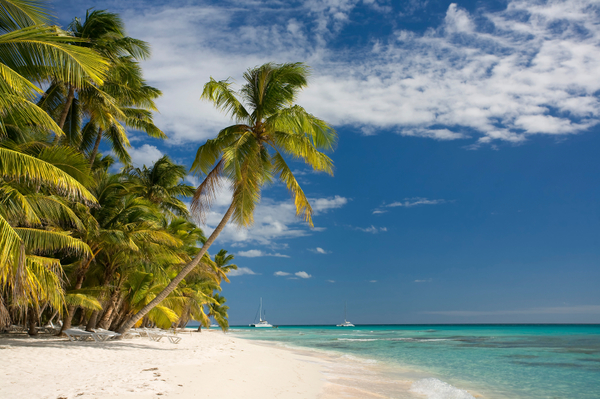 Water Sports
Popular honeymoon locale Punta Cana is quite ideal for participating in activities like kayaking, catamaran sailing, windsurfing, snorkeling, scuba diving, and deep-sea fishing. The coastal areas are abundant when it comes to healthy reef action and home to colorful fish and underwater sea caves. Couples interested in snorkeling and kayaking excursions should look toward Marinarium Excursions.
Marinarium Excursions, www.marinarium.com
Exploring Samana
The Samana Peninsula consists of a finger of land that juts out to the east of the country. This region features a forested, hilly ridge that runs down the middle, while the shorelines offer picturesque bays and coves. This area is quite ideal for whale watching in the winter and more active pursuits, like hiking on a deserted beach along the northern coast.
Don't miss out on a trek to El Salto del Limon (The Waterfalls at El Limon) or a chance to explore Parc National Los Haitises with its caves and sub-tropical forest. The beaches here are also excellent, especially Playa Rincon, which is regarded as one of the world's best.
Whale Samana, www.whalesamana.com
Hitting the Beach
The Dominican Republic draws millions of visitors each year thanks in part to its spectacular beaches. The Punta Cana/Bavaro Beaches stretch for more than 20 miles, and are soft, wide, and perfect for swimming. On the Samana Peninsula, Playa Rincon is one of the world's finest strips of sand. With giant cliffs as the backdrop and smooth turquoise waters prevailing, it's truly one of the country's most unique and unforgettable places.
Playa Rincon, www.gosamana.com
Horseback Riding
Horseback riding has been a longtime favorite activity of visitors to the Dominican Republic. Choose from interior trails that go beside waterfalls, up and down mountains, and through farms and forests. Or instead, go for a ride along the coastal areas, whether on the beach or under a starry sky.
El Rancho, www.puntacana.com

In case you missed it:
POLL: Which U.S. Destination Would You Choose for a Fall Honeymoon?
Winners Announced for TJ's 2014 Summer Honeymoon Photo Contest