I know. Your honeymoon probably isn't the place you want to think about budgeting or saving money. We think of honeymoons as the trip of a lifetime where you can completely disconnect and enjoy some luxury. But you'd be surprised how far a little budgeting can go in helping you get to your dream destination and afford the perks you've always dreamed of.
Here are four tips from experienced travelers that will help you save money on a dream honeymoon.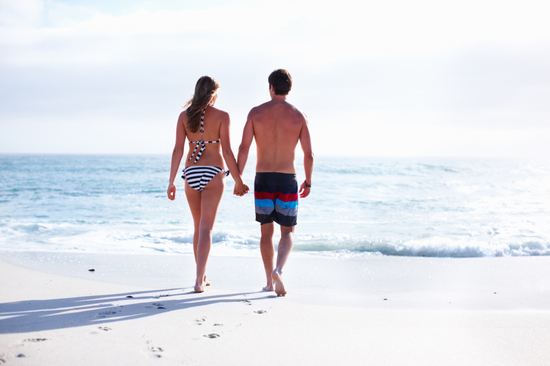 Don't Buy Travel Gear
If there's one lesson I've learned in my years of travel it's that buying the newest and hottest in travel gear is not necessary and not always a good idea. Those zip off pants and money belts and quick dry shirts are marketed as excellent solutions for safety, space saving, and versatility, but they are often not worth the cost for their benefit. And as long as we are talking about zip-off pants, there is no better way to broadcast your status as a tourist than to wear zip-off pants.
Save, then Splurge
We all want to splurge on our honeymoons -- in some cases the splurge is what separates a honeymoon from just a regular trip. Springing for luxury everything, unfortunately, is the quickest way to empty your wallet. All those nice dinners, private transfers, tours, and upgrades add up. The key here is to enjoy the splurges in moderation -- save one day, splurge the next. Not only will this keep the budget in control, but you'll appreciate the luxuries that much more.
Rent an Apartment or Villa
The best value can sometimes be found in an apartment or villa rental instead of a hotel. If you are planning to visit a Caribbean island, villas can offer more privacy than resorts, and some even have private pools. On a city honeymoon, you'll enjoy the ability to stay in picturesque and local neighborhoods instead of sticking to the tourist zones.
How does the money saving come into play here? Imagine the money you'll save making morning coffee in your rental kitchen and having a bite to eat for breakfast at home. Choosing just one meal a day to eat at home or in picnic form will free up funds to spend on the other meals or on other travel costs. It could get you closer to that business class upgrade or afford you a dinner at that 3-star Michelin restaurant you've always wanted to visit.
Walk
Aside from being the best way to explore a new destination, walking is the best way to save money -- when it makes sense. Taxis can be extremely expensive, and ticket fares for buses and trains add up.
Pepper in some walking tours or post-meal walks on your trip, especially if you are traveling to a city like New York or Istanbul or Rome. Though public transportation is a part of the travel experience and a taxi may often be the easiest and quickest option, it's not always necessary.

In case you missed it:
VOTE: Which U.S. Destination is Most Desirable for a Honeymoon?