We're thrilled when newlyweds share their wonderful honeymoon stories with us. This week we're featuring a selection of favorites highlighting Spain, a country just teeming with one-of-a-kind honeymoon experiences. We hope these stories provide a little inspiration as you start planning your own getaway.
Kari & David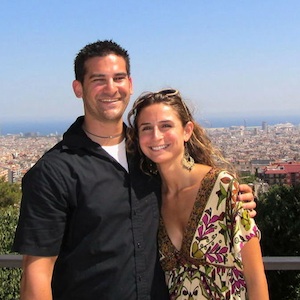 On the heels of an idyllic wedding at a historic manor home along the banks of the Hudson River, Kari and David made their way to Barcelona to commence their honeymoon adventure. It was the first stop on a multi-destination trip that included Spain, France, Italy, and Hungary. As for Barcelona, the newlyweds were completely floored by the city's architecture and overall energy.
"Barcelona thrives with people from every country and every walk of life," Kari said. "But despite all these differences, there was a communal excitement. Running through the Ramblas, the main street in Barcelona, there's this electricity that seems to be in the very air, just begging you to stay out and have another drink, or an even later supper."
Read Kari and David's entire honeymoon story here.
Katie & Anthony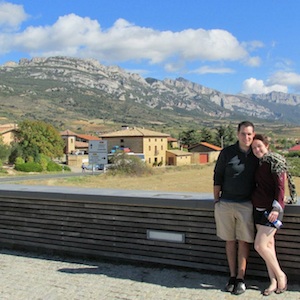 These self-described foodies found honeymoon paradise in Spain during the fall, which was absolutely perfect in terms of weather, prices, and number of tourists. With the help of a niche food tour company, the honeymooners put together an itinerary of Pintxos tours (a Basque name for tapas), cooking classes, and wine and cheese tastings.
"The next morning we moved VERY slowly to an olive oil tasting before a Basque cooking class with an accomplished chef," Katie said. "We sliced, diced, chopped, stirred, and then drank more Txakoli, completing the meal and sitting down together to enjoy seafood stew, gluten-free crusty bread with boiled sausage, and traditional desserts. Our stroll along the river back to the hotel was the perfect opportunity to walk off some of the food and take in the gorgeous stone architecture and tree-lined streets."
Read their full story here.
Nichole & Greg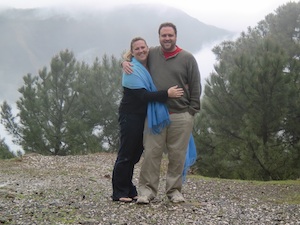 Nichole and Greg spent most of their honeymoon days in the tiny beach hamlet of Cala Mijas in Southern Spain, about 20 minutes from historic Malaga. The newlyweds used the area as a home base for visiting other can't miss spots in the region. Highlights of the trip included a scenic horseback ride, bike tour, trip to Gibraltar, and exploring Madrid, which featured a most-welcomed detour to the Prado Museum.
"From Gibraltar, we traveled to Ronda, a city that rests on both sides of a gorge connected by a bridge separating Old Town from New Town," Greg said. "Spain's oldest bullring is also located here. On the edge of the cliffs of Old Town rests the Parador Hotel. If we ever get to stay at a more beautiful hotel in our lifetime, we will be a very fortunate couple."
Read more about their honeymoon getaway here.

In case you missed it:
Real Honeymoon Stories: Best of Cancun & the Riviera Maya, Mexico
Real Honeymoon Stories: Best of Greece
Real Honeymoon Stories: Best of France