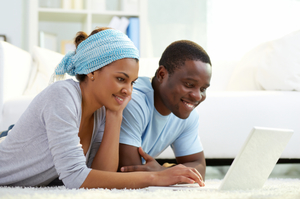 An unforgettable honeymoon often stems from a creative and thorough registry. Read on as TJ blogger Missy Mecum reveals four ways to craft an original, effective, and super successful registry that will pave for the way for the getaway you've always dreamed about.
Let Your Guests Experience Your Trip With You
Include your friends and family in your trip experience by making your gifts as descriptive as possible. Your friends want to see and hear about the beautiful waterfall you will visit or the delicious dinner you will eat. Providing photos, detailed descriptions, and even links to websites will really help your guests live vicariously through you and be excited about helping you make those memories.
Show Off Your Personality
Next, look to personalize your registry just like you would for the wedding. Start by including some of your favorite photos and a wonderful welcome message on your registry page.
Make sure your personality as a couple really comes through in your gifts as well. Consider how are you described as a couple. Are you fun, sweet, intelligent, or adventurous? If you are adrenaline-seekers, for instance, include opportunities for your friends and family to gift you thrilling activities like snorkeling, zip lining, or even running of the bulls in Spain! Guests are much more excited to contribute toward a gift if they can really picture you enjoying it.
List Gifts for Many Different Budgets
Perhaps the most important aspect of creating a successful registry is listing gifts of different prices so guests with a variety of budgets will be able to find a gift to give. It could be anything from $15 towards shrimp tacos at a roadside food truck in Hawaii to $250 for a romantic dinner at the best restaurant in Paris. Get creative, have fun, and really mix up the amounts of those gift items!
I often find that guests forgo purchasing a gift on a registry if they do not find anything within their budget. The great thing about the honeymoon registries at Traveler's Joy is that they all offer a "General Honeymoon Fund Gift" that you can add to the end of your registry. Now friends and family can contribute any amount to your trip if they don't find items that fit inside their price range.
Notify Your Guests
We know how hard it can be to make sure your friends and family know where you are registered. Wedding gifts and registries should never be mentioned in your wedding invitations, but creating a wedding website can be a great way for guests to find information about your celebration in addition to your registries. This way you're able to tell people about your wedding website through e-postcards or announcement cards.
Social media can also be helpful when it comes to notifying your guests. For example, many members post something like: "We just finished planning our honeymoon on our Traveler's Joy registry and we can't wait!" on Facebook or Twitter. Also, be sure that your family and wedding party know where you are registered so they can get the word out too!

In case you missed it:
5 Easy Ways to Make Your Wedding Registry Stand Out