This week we celebrated Earth Day -- a yearly reminder to us all that we must appreciate and care for our planet. This important message not only applies to our daily life but also to our travels. With a few small considerations, it's possible to travel in an eco-friendly way without sacrificing experience or luxury.
Sure, flying around the globe may not be the most eco-conscious method of transportation, but once you touch down in your destination you can make it all up with these helpful eco-friendly travel tips.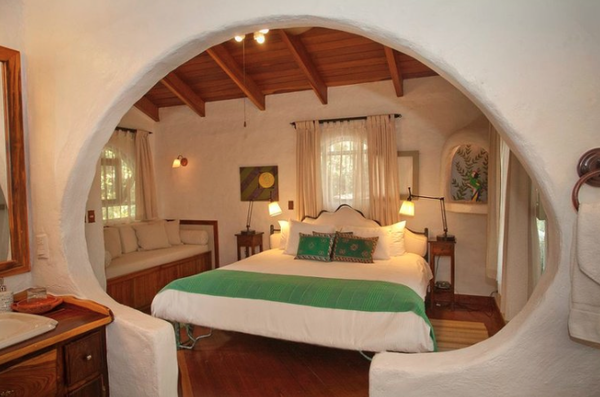 Tip #1 - Stay in Eco-Friendly Accommodations
Booking your stay in an eco-resort or lodge is one of the easiest ways to have a green honeymoon. With eco-conscious practices becoming not only important but also the new style, you'll have no trouble finding (in many destinations) a luxury tent or a solar powered cabin or an LEED-certified hotel that prides itself on its low impact to surrounding environments.
Ideas:
In Costa Rica, Finca Rosa Blanca is an organic coffee plantation / luxury eco-boutique hotel outside San Jose that received top marks from the Costa Rican Sustainable Tourism Certification program. Their coffee and restaurant, El Tigre Vestido, are both delicious.
In Nicaragua, Finca del Sol is a three-cabin nature lodge that sits on a working organic farm on Ometepe Island. All cabins were built by hand (by the owner!) with local materials, all electricity is powered by solar panels, and the toilets are composting toilets using local rice husks. This is a real earth-friendly experience.
Tip #2 - Choose activities that don't leave a carbon footprint
Instead of renting a Jeep or firing up a jetski, opt for activities that don't leave a large carbon footprint.
If you are honeymooning in a city, you should use your feet or take public transportation -- don't hail that taxi. In my opinion, walking is THE best way to explore a new place. It's the only way to find those hole-in-the-wall cafes and restaurants that make travel so fulfilling. When walking isn't an option, try using public transportation. It's pretty convenient most of the time and a lot more of a local experience than a taxi.
If you are honeymooning out in nature, try kayaking or cycling instead of using a motorbike or speedboat. They won't add exhaust fumes to the atmosphere and you'll get a workout in the process.
Tip #3 - Bring eco-friendly products from home
When staying at an eco-resort in a beautiful natural environment, the last thing you want to do is toss chemicals down the drain. Many of the bath and body products we use today contain chemicals and oils that are harmful to plant life, wildlife, and our water systems. Even if you don't plan on using organic products at home, you should definitely try to use them when staying at an eco property or when traveling in rural areas.
Ideas:
Dr. Bronner's Castile Soap - This a perfect multi purpose soap you can use both in the shower and for hand washing. Dr. Bronner's aims to make socially and environmentally responsible products; they definitely do -- and in all different scents like citrus-orange, rose, and eucalyptus.
Nature's Gate Natural Toothpaste - This toothpaste contains essential oils for flavor and baking soda for top quality dental care. Though it may not taste as sweet as regular toothpaste, it contains no harmful ingredients or artificial coloring. My favorite is the spearmint paste.

What are your ideas of an eco-friendly honeymoon? Tell us on Facebook or send an e-mail to blog@travelersjoy.com.
Image courtesy of Finca Rosa Blanca