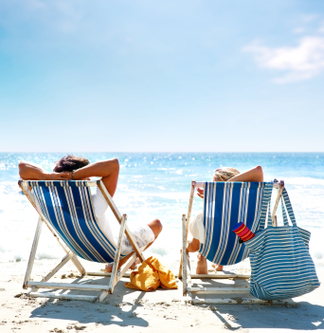 By including just a few features and strategies, couples can easily create a fun, unique, and effective honeymoon registry page that showcases their personalities and exciting travel plans.
All the while, your registry will really resonate with friends and family and ultimately encourage them to make contributions. In the end, you'll get to experience the honeymoon you've always dreamed about. Here's five tips to make it happen.
Upload a variety of images and videos
Start by customizing your registry page with personal photos. Add as many as you'd like, whether it be together shots, solo pics, or other favorites. The images will automatically rotate at the top of your page and definitely be a focal point for registry visitors.
Got any memorable videos you'd like to share with friends, family, and registry guests? Since the guest message and trip information sections of your registry are supported by HTML, it's easy to include clips for guests to view.
Write a unique welcome message
Your welcome message is typically the first thing guests encounter when visiting your registry page. Use this opportunity to welcome friends and family and thank them for visiting your page. This is also the ideal place to describe any special details about your relationship, engagement, or the wedding itself, providing guests with some much-relevant background information.
For more tips on crafting the perfect registry welcome message, check out this recent article.
Include key details about your trip
If friends and family are going to contribute, it helps if they know the details of the trip to see what's in store. For instance, by entering your destination(s) in the trip information section of your registry page, a map feature can trace the road ahead. Visiting a whole bunch of destinations? No problem. Use the locator icon to reveal every one of your honeymoon stops on the map.
Couples will also find a section to describe trip details. Your goal here is to explain why a honeymoon of your dreams (and not a new set of silverware) would be the gift of a lifetime. Help your guests imagine the memories they will be a part of creating. It really does make a big difference.
Use TJ's custom features
Next, in the layouts and colors section of your Traveler's Joy registry admin, you'll discover a number of fun ways to make your registry page your own. For starters you can select the style you'd like your names and registry items to appear on the webpage. Also, choose from 10 different color schemes to make your registry reflect your tastes.
Spice up those item descriptions
Finally, don't forget to add a little creativity to your registry item descriptions! It truly goes a long way. Here are a few quick tips:
*Be descriptive about your activity/registry items and make your guests feel as though they are part of the experience
*Don't be shy about adding humor and creativity to your registry. This will help make the gift-giving experience fun for all of your guests
*Use interesting and colorful pictures to showcase your gift items. The more inviting an image appears to your guests, the more likely it will persuade them to purchase the gift for you
*Provide links (if possible) so that guests can see exactly what they are giving or what you have planned for that particular activity/experience.
Tell us how you made your Traveler's Joy registry really stand out over on Twitter by using the hashtag #myTJregistry

In case you missed it:
Travel agent registries vs. independent registries: what's the difference?