We're thrilled when TJ members share their incredible honeymoon stories. This week we're featuring a few of our favorites highlighting Greece, a destination cherished by newlyweds all over the world. We hope these stories provide a little inspiration as you start planning your own getaway.
Hilary & Tommy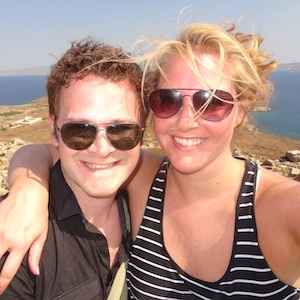 It all started in Athens for this Seattle-based couple, where they visited the Acropolis, wandered the historic streets, and took a day trip into the mountains to ancient Delphi. The Cyclades were next on the itinerary, specifically Mykonos, Delos, Naxos, Santorini, and Crete. Highlights included horseback riding on the beach, exploring ancient ruins, snorkeling in remote sea caves, and participating in a cooking class that featured a sampling tour of local ingredients.
"Greece is one of those magical places where the reality outstrips the postcards," Hilary said. "Offering a myriad of experiences, landscapes and activities, Greece had everything we could have hoped for in a honeymoon destination, and we would highly recommend it for any other honeymooners."
Read their entire story here.
Catherina & Nicholas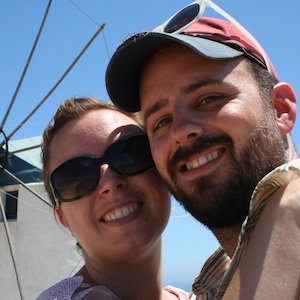 The happy newlyweds chose Greece due to its unique mix of history, culture, and incredible beaches. While visiting the islands of Sifnos, Paros, and Santorini, they stayed in charming B&Bs, took many dips in the Aegean Sea, explored local villages (many with whitewashed houses and windmills), sampled wine at family-owned vineyards, and experienced an unforgettable sunset dinner.
"As soon as we set foot on the very small and lightly populated island of Sifnos, we looked at each other and both said, 'I think I could live here.' Sifnos was glorious - the highlight of our trip - and we both want to go back."
Learn more about their adventure here.
Shilpa & Joseph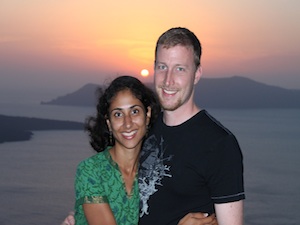 Inspired by Greek Mythology and elementary school pen pals, Shilpa and Joseph knew Greece was going to be their honeymoon destination from the very beginning. The couple visited Athens, sampled traditional Greek drinks like raki and ouzo, and listened to jazz under the stars. Meanwhile, they also got to explore the Cyclades, which included stops in Santorini and Naxos. Top experiences included hitting up the beaches, going picnicking, and getting a taste of regional cuisine at various tavernas.
"On our return to Naxos, we arrived to what was the most spectacular sunset of our honeymoon," Joseph said. "The colors intensified to vibrant hues of flames. The sky was ablaze. Shilpa and I were spellbound."
Read about their entire journey here.

In case you missed it:
Real Honeymoon Stories: Best of France