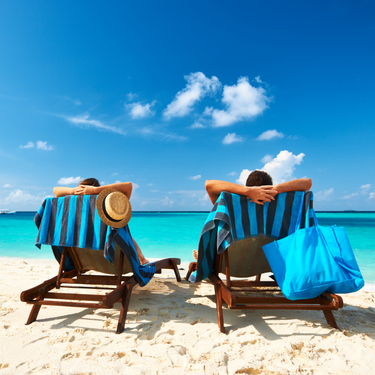 A honeymoon is hardly the time to skimp on luxury. In fact, I would argue that it's the one time to pull out all the stops and go for broke on luxury, exotic destinations, and style. The truth is though, staying within a budget is the reality for most of us travelers. Especially at the beginning of a marriage and a new chapter in life.
So, how can you achieve a luxurious trip without draining the bank account in the process? I've put together some key tips that have helped me save thousands on travel costs. They will help you keep your honeymoon (or any other future trip for that matter) be the luxurious escape you hope for it to be -- all while staying close to the budget you need it to be.
1. Luxury one day, budget the next. Repeat.
In order to save up for the splurges that are the most worth it to you, find other places to scale back. Maybe you stay in budget accommodations for half the trip and go all out when you reach that private island in Thailand you've been daydreaming about. If you've always wanted to eat at a three Michelin star restaurant in Paris, perhaps baguette-and-cheese picnic lunches everyday will keep the food budget in control. Whatever the trade offs are, make them. It will be worth it to have a few splurge experiences even if it's just for a night or two.
2. This should go without saying, but hunt for a deal.
Flash sale websites and travel booking websites feature amazing deals on packages, flight routes, and properties at certain times. Take advantage of these. Bargains like these may not help you if you've already decided on a destination and on dates. However, being flexible enough to book a special offering could get you into a better hotel than your budget allows or onto a more direct flight for less. But you will have to act quickly so this is probably only going to work for you decisive people out there.
Sites like Jetsetter.com hold flash sales for some high end properties. And Travelzoo is a great deal resource that also sends out a weekly Top 20 newsletter highlighting the best deals on the market.
3. Prices go down big time in low season.
Regardless of what time of year you've planned your honeymoon, it's low season somewhere. And low season is definitely a very well priced season. I've been to Europe in the late fall and and to the Caribbean in the heat of the summer, and both have been amazing trips despite the time of year. Not only was I able to stay in some prime hotels for a fraction of the cost, but the beaches and sights were empty and felt more real without the throngs of foreign tourists.
4. Travel where luxury is cheap.
Luxury is not cheap in the Caribbean. Nor is it cheap in parts of Europe. But you'll find amazing deals in parts of Central America, South America, and Asia.
Who wouldn't want a private plunge pool to relax in at the end of each day in paradise? At the world famous resort in St. Lucia, Jade Mountain, all rooms have their own private plunge pools but with a price tag of well over $1,000 per night.
In Lombok, Indonesia, (a dreamy island near Bali) the luxury beachfront resort The Jeeva Klui also has private pool villas. While they may not offer the views of St. Lucia's piton mountains, they include luxurious outdoor showers, a walled garden and patio including a private plunge pool and fountains, all with a sleek modern Balinese design. For about $200 per night. Way more attainable on a budget.
5. Travel Hacking is a real thing. And it can be a huge money saver.
This is kind of the opposite advice as No. 2. You have to think long term in order for travel hacking or any credit card points or airline miles to pay off. Slow and steady wins the race here.
Here are some of the basic rules to make travel hacking pay off:
* Always join airline mileage clubs. Never fly without earning something somehow.
* If you stay loyal to one airline, you'll rack up more miles much sooner.
* You can earn miles on airline credit cards as well, and some have some very lucrative sign up promotions.
* There are also point based reward credit cards, like Capital One Venture, Citibank Thank You Network, and Barclaycard. You'll get great value on travel bookings with their reward programs without needing to stick to one airline.
* Starwood's Preferred Guest program is one of the best hotel programs on the market and will also let you transfer hotel points into miles on American Airlines.
For more detailed info on how to make miles and points get you further on your honeymoon, check out MileValue.com or NomadicMatt.com.

In case you missed it: