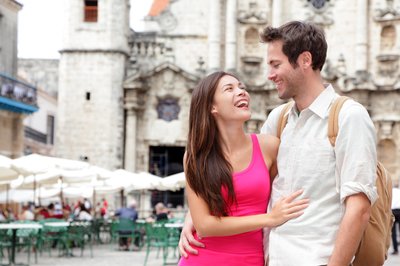 If there is ever a time to relax and enjoy the spoils of a luxury hotel in an exciting destination, that time is on a honeymoon. While this is a priority for most newlyweds, getting to know the local culture of your destination is equally important. It may seem impossible at times to get beyond throngs of tourists, but believe me, it's easier than it seems even in the most popular destinations.

Check out the following tips for an off-the-beaten-path trip in an on-the-beaten-path destination. These will help you design a honeymoon full of both luxury and local flavor.

Take a Local Day Trip
Instead of visiting only the most popular tourist sites, check out a local town, a less crowded beach, or a city neighborhood that slides under the tourist radar. You'll get a better feel for the local people and learn more about the environment.

Visit a Market
Checking out a local grocery store, farm stand, or central market is a perfect way to see what people are growing and eating.

Eat Local
Depending on where you are traveling to, this can mean grabbing lunch at a street stall or enjoying local specialties. Don't be shy. Ask a hotel concierge for their favorite restaurant or a taxi driver for a recommended cafe.

Talk to People
Strike up conversations with the local people you meet. You may learn some interesting new facts about your destination, make a new friend, or hear about a must-see place that could end up being the highlight of your trip.

Where Should You Go?

Even though Aruba and New York City are extremely popular for tourists, you'll find plenty of local intrigue and a lot of luxury.
This southern Caribbean island is extremely popular with honeymooners thanks to stunning beaches, luxurious oceanfront resorts, and beautiful warm weather.

Stay: Palm Beach is one of Aruba's best beaches, so it's no surprise that the Aruba Marriott Resort and Stellaris Casino is located right on its sands. This full service resort offers plenty of oceanfront palapas, a Balinese inspired spa, and a restaurant on the beach where you can dine as newlyweds with the sand at your feet.

Get Local: Rent a car or join a jeep tour and go off-roading along Aruba's windward coast. The rocky and rugged terrain couldn't be more different from the calm waters of Palm and Eagle Beaches on the western side of the island but are equally stunning. Head to Arikok National Park to admire the windswept views of cacti and crashing waves or drive out to the Conchi natural pool for a swim.

Eat: A visit to this island of Dutch culture wouldn't be complete without a stop at Linda's for an authentic Dutch pancake. They've been open for nearly ten years serving favorites like pancakes with strawberries and whipped cream or a savory pancake with Brie cheese and walnuts.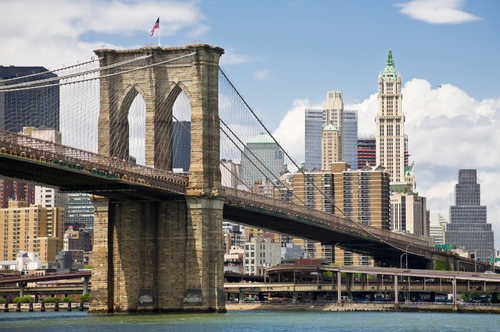 New York City

New York City, while chock full of famous attractions that should not be missed, is not just all about Manhattan. Brooklyn is having a renaissance and shouldn't be missed.

Stay: Manhattan's Union Square W Hotel is ideally located for any traveler hoping to explore both boroughs (Union Square has seven subway lines that can take you to Central Park or all the way to Coney Island). The rooms are updated and luxurious, the hotel bar The Living Room is a perfect spot for happy hour cocktails, and the farmer's market is only steps away.

Get Local: The Brooklyn Flea is its namesake borough's best one stop shop for local foods, vintage knick-knacks, crafts, locally made clothing, and the infamous ramen burger. There are a few locations in Brooklyn depending on the time of year -- several that focus on food (Smorgasburg events) and others that offer up everything (Flea events). Check out their website for more info.

Eat: Grimaldi's Pizzeria may be famous, but instead you should head down the street to Juliana's. This pizzeria recently opened in the original site of Grimaldi's and serves coal-oven baked pizzas crafted by the legendary Patsy Grimaldi himself. (Patsy's pies are hands down some of New York City's best) The margherita pizza is always delicious, but also try the prosciutto and arugula pizza for something a little more unique.
Aruba photo courtesy of Aruba.com