At the onset of the honeymoon registry process, it's common for couples to wonder about the distinction between a "travel agent registry" and an "independent honeymoon registry."
While these two types of registries share the same mission, they also have many differences. From travel flexibility to trip customization, the registry option you ultimately choose will have an impact on your honeymoon. Find out how below: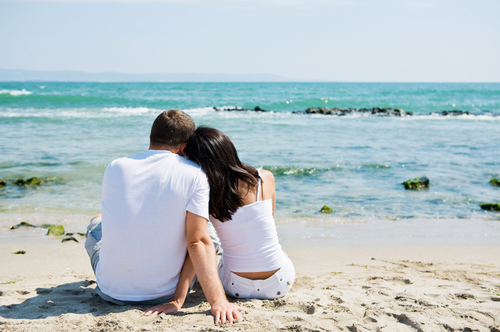 Breaking Down the Registry Process
Travel agent registries can vary depending on the agent and company you select. However, for the most part, the overall registry process is the same. For starters, when you sign up with a travel agent, the company will inquire about what you're looking for in a trip. From here, they will assist in planning most travel aspects, such as accommodations, transportation, and activities. They may even require you to put down deposits in order to book the trip.
Next, you'll open a registry where guests directly make trip contributions through the travel agent. All monetary gifts for a travel agent registry must be applied by the full payment date. Keep in mind that the registry will close right when your payment is required. This can range from a few days before your trip to several weeks prior.

On the other hand, if you choose to go with an independent registry, you'll be able to create a honeymoon registry site and then customize it completely. You can plan the trip with your own travel agent or through your own research and may book your travel whenever you'd prefer. When guests contribute to your trip, you can redeem your gifts as often as you'd like and use the contributions toward your trip. You may also receive gifts right through your wedding and even after your honeymoon.
Pre-Planned Trips

Too busy with the wedding to plan your own getaway? Travel agent registries typically provide a lot of assistance with the planning side of any honeymoon. If you don't have time or the interest to find the destination, accommodations, or activities for your trip, a travel agent can really help point you in the right direction and narrow down choices.
It's also common for a travel agent to set up the registry and create gifts for you. All the while, they often provide travel tips that can be really helpful for couples who may not travel often. This can be a big plus for couples who aren't on a strict budget and may be looking for a lot of help researching and making decisions for their trip.
Complete Flexibility

If you want more of a say in your own honeymoon, independent registries are a terrific way to go. Through this registry option, couples have ultimate flexibility. You only book the trip when you're ready with your own travel agent, a hotel website, or any other method. This allows you to find the best value for your budget. Plus, you don't have to use pre-determined trips or packages that can be pricey or not exactly what you're looking for. Remember you're NOT committed to anything when creating a registry or even when guests purchase specific gifts. The funds that you collect on your independent registry can be used toward anything on your honeymoon.
For example, if you registered for a snorkeling trip on your Grand Cayman honeymoon and the weather prevented you from going, you still have the option to use those funds for something else. Perhaps it could be a romantic honeymoon dinner or a date night when you get back home. You even have the flexibility to accept contributions after your trip is over to reimburse yourself. In fact, Traveler's Joy registries are open for two years after your honeymoon or until you choose to deactivate the registry.

Whether you choose to use a travel agent registry or an independent honeymoon registry, your guests will be thrilled to give you gifts that you will use. You'll also be happy that through your registry, you collected memories to cherish for many years to come.