We love hearing from TJ members and reading about their incredible honeymoon experiences. This week we're featuring a few of our favorites highlighting one of the Caribbean's most romantic honeymoon destinations -- St. Lucia. Hopefully these stories provide a little inspiration as you start planning your own getaway.
Jacie & Jason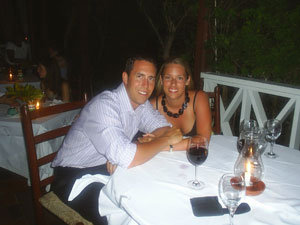 Instead of staying at just one hotel, Jacie & Jason split their time on St. Lucia between two renowned boutique properties. At Ladera Resort, they particularly enjoyed sipping champagne in their private plunge pool and looking out at the famous Piton mountains. Another memorable moment came when Jason's ring slipped off and fell to the bottom of the sea on a snorkeling excursion. Fortunately, he spotted it and dove down 20 feet to recover it.
Next at Ti Kaye Resort & Spa, the two enjoyed a private wine tasting, dinner out on their cottage porch, and oceanfront massages. One evening, they even visited a local fish fry in Anse La Raye which included live music, traditional St. Lucian foods, and, of course, the fresh catch of the day.
"It makes such a difference to go on a trip and not have to worry about what you're spending," Jacie said. "You only have one honeymoon, so it was nice to be able to splurge and make the most of it. St. Lucia will always have a special place in our hearts, and we'll carry those memories with us forever."
Jennifer & Sam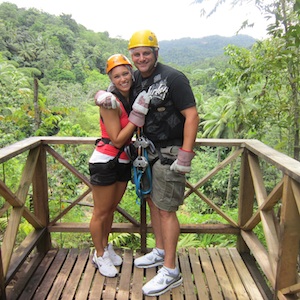 These high school sweethearts experienced the honeymoon of the dreams, complete with snuba diving (yes, snuba diving), zip-line adventures in the jungle, and a private candlelight dinner right on the beach. Much to their delight, they even got upgraded to a luxury suite that came with its own pool and hot tub.
"As we were lying on the beach chairs and looking out at the sunset, I remember thinking, How did I get to be so lucky to be here in paradise," Jennifer said.
In case you missed them:
St. Lucia: World's Most Romantic Honeymoon Destination