Just because it's your dream getaway doesn't mean you should let healthy habits fall by the wayside. From pre-trip preparation to mid-vacation musts, learn 10 different strategies to stay healthy and feeling great on your honeymoon.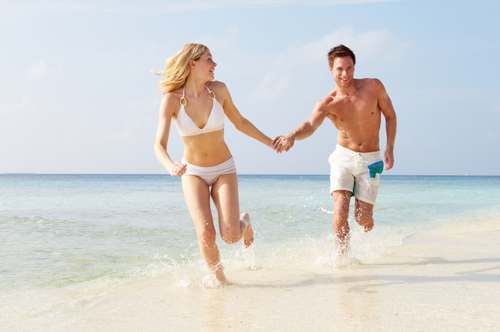 Beat Jet Lag. If you'll be crossing multiple time zones on your trip, it's likely you'll have to battle jet lag. Luckily, there's a number of simple ways to combat it. From limiting your caffeine intake to staying hydrated, these 6 tips will have you feeling refreshed in no time.
Be an Active Traveler. Even if reclining in a lounge chair on the beach is your top priority, look to include a number of active pursuits in your daily itinerary. Easy ideas include hiking, biking, golfing, snorkeling, and exploring a town or city on foot.
Get Sleep. With likely long days ahead, stressful travel, and irregular routines, your body is going to feel overwhelmed at times -- both mentally and physically. Make sure it can recover properly by getting adequate rest each night. If you're a light sleeper, consider bringing along helpful sleep aids such as sleepmasks and earplugs.
Wash Hands Frequently. This is especially important after touching known germ hotspots like door handles, car dashboards, and public phones. If you don't have access to soap and water, pack a bottle of instant hand sanitizer like Purell or bring a few antibacterial wipes to clean off dirty surfaces.
Keep Your Skin Protected. Whether you have plans to go skiing in the Alps or hit the beach in the Caribbean, most honeymooners will be exposed to the sun on a daily basis. To avoid things like sunburn, windburn, and bug bites, be sure to apply the proper lotion multiple times a day. You don't want THIS to happen do you?
Stay Healthy Before Your Trip. It's particularly helpful to keep the immunity system strong ahead of your travels. By eating well, getting plenty of sleep, and exercising, you'll be a step ahead. However, if your system is already weakened before your getaway, you may be more susceptible to catching a cold or virus down the road.
Take Vitamins and Immunity Boost. It's easy to pack daily vitamins (also a cinch to bring via travel organizers) or at least bring a few immunity tablets to ensure you're receiving essential nutrients.
Maintain Good Eating Habits. Being a once-in-a-lifetime trip, it's perfectly fine to splurge on that creme brulee. However, it's still key to eat and drink in moderation and maintain a diet complete with fruits and vegetables. Also, drink water frequently and stay hydrated. Bringing this water bottle will help.
Hit the Gym. Regular exercise is a key ingredient towards staying healthy. Look to mix things up during your vacation by doing laps at the pool or trying a yoga class.
Be Prepared. When traveling, you never know when dreaded things like diarrhea or a splitting headache might strike. To help with any potential setback, pack along some pain relievers like aspirin, a few first-aid supplies, and anti-diarrhea tablets. Don't forget to include your current medications as well.

In case you missed it:
6 Easy Ways to Improve Your Hotel Experience
How to Find the Best Airplane Seats