We love hearing from TJ couples and their incredible honeymoon experiences. This week we've put together a few of our favorites featuring one of America's top honeymoon destinations -- Las Vegas, Nevada. We hope these exciting stories provide some inspiration as you start planning your own getaway.
Sarah & Adam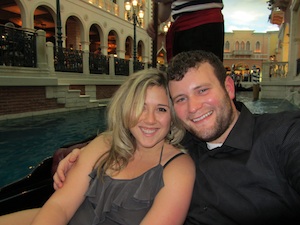 It was easy to see why these Houston-area newlyweds had the vacation of a lifetime. The couple stayed at the Vdara Resort and Spa where they enjoyed 270-degree views of the Strip from their 27th floor Panoramic Suite. Meanwhile, in between decadent dinners and romantic strolls around town, they got to experience a couples massage, private poolside cabana service, and scenic drives in a classic car.
"Adam and I wanted a honeymoon that complemented our personalities and wedding style," Sarah said. "We are city folk though-and-through, so we opted for big lights, taxi cabs, and modern amenities over sandy towels. We knew Vegas was our kind of relaxation, and we couldn't wait to keep the wedding party going through our first week as a married couple."
Amy & William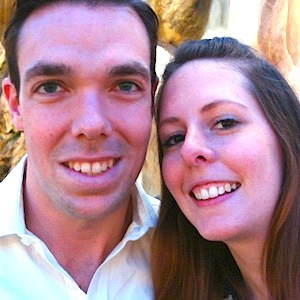 From top-notch restaurants to exciting Cirque du Soleil performances, this lovely Pittsburgh couple got the full Las Vegas experience. Highlights include a private gondola ride at the Venetian, experiencing free-fall via indoor skydiving, and a romantic dinner at the Eiffel Tower Restaurant at Paris Las Vegas.
"Honeymooning in Las Vegas was truly a memorable experience that we wouldn't change for any other," Amy said. "From Madame Tussauds to spa treatments to Napoleon's Dueling Piano Bar, we absolutely recommend Las Vegas, Nevada for aspiring honeymooners. Las Vegas has a way of offering something for everyone and leaves you thirsting for more."
Victoria & Kevin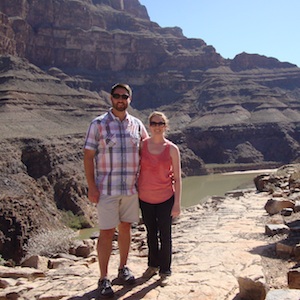 These East Coasters made sure to take a honeymoon trip that included a full slate of adventure and excitement. One of the biggest highlights of their 11-day jaunt through the Western U.S. was a stop in Sin City. The couple enjoyed the glitz and glamour of the Bellagio before embarking on a thrilling helicopter tour of the Grand Canyon.
"Neither of us are the 'Sit your butt on a beach and sip a fruity drink' types," Victoria said. "We knew we wanted to have some relaxation, but vacation for us is about experiencing new places and new things."
Recently return from your Las Vegas honeymoon? E-mail us at blog@travelersjoy.com and tell us your story!