October's Honeymoon With a View puts the spotlight on the Poseidon Undersea Resort, a proposed five-star hotel that will be completely submerged in a lagoon off an island in Fiji. While the resort isn't open just yet, it is slated to become the world's first seafloor resort.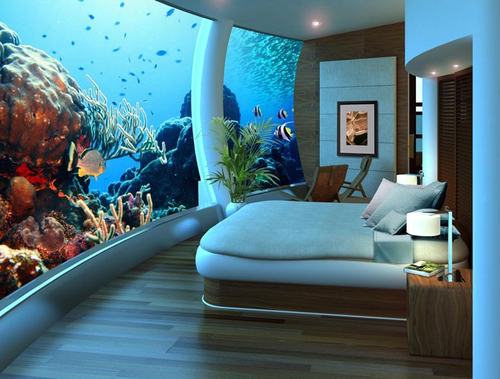 Can you imagine relaxing in your own private room while being treated to a front row view of diverse sea life and colorful coral reefs? Once completed, Poseidon will truly become a once-in-a-lifetime destination.
In addition to 25 luxury guest suites, the property will feature two dining establishments, a dive shop, retail boutique, library and lounge, fitness center, theater area, and spa center. Meanwhile, the incredible activities list will include navigating personal Triton submarines and scuba diving in the surrounding turquoise waters.
As of 2013, the resort has completed the design and engineering of structural works and is currently under construction.
Would you book a room at the Poseidon Undersea Resort? Chime in with us over on Facebook.
Image courtesy of Poseidon Undersea Resorts