Looking for a little inspiration or guidance when it comes to your fall honeymoon? From can't-miss autumn festivals to updated foliage maps, check out these resources to ensure your getaway is truly unforgettable.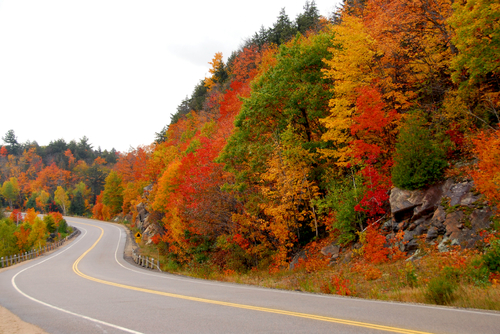 Scenic Drives: Best Fall Foliage Road Trips
This Travel Channel guide features everything from Skyline Drive to Frank Lloyd Wright's Wisconsin and even includes helpful maps.
Top 10 Fall Festivals in America
Headed by the National Apple Harvest Festival and International Balloon Festival, you can't go wrong with any of these 10 amazing fall events.
Fall Foliage Maps
Weather.com has updated maps highlighting the latest fall foliage coverage. Overall a great tool in helping you determine where the best colors are appearing at any given time.
America's Best Beer Events
Yahoo! Travel makes a toast to craft beer in this guide to fall beer festivities around America. Between Austin Beer Week and Oktoberfest celebrations, there's plenty here to wet your whistle.
Amazing Autumn Foliage Hikes
From Oregon to Vermont, these fall hikes will be perfect for outdoorsy honeymooners hoping to immerse themselves in the changing colors.
Best Hotels for Fall Colors
Consider these highly-regarded inns and hotels to get fall colors right in your front lap. They will also make terrific home bases for your honeymoon road trip.
Coastal Fall Festivals
Heading to the ocean instead of the mountains? No worries, check out the following 16 fall festivals located along America's coastlines.
In case you missed it:
TJ blogger Annie Shustrin reveals 5 colorful fall honeymoon destinations for 2013.