We love hearing from TJ couples and their incredible honeymoon experiences. This week we've put together a few of our favorites from French Polynesia, including the exotic locales of Bora Bora and Moorea. Hopefully these wonderful stories will provide a little inspiration in planning your own getaway. Enjoy!
Sarah & Christopher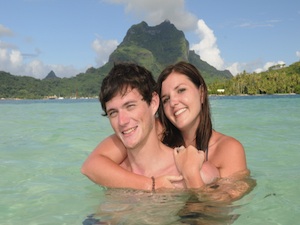 The newlyweds visited Tahiti, Moorea, and Bora Bora on their exhilarating 10-day trip. Highlights include shopping for Tahitian pearls, getting caught in rainforest downpours, swimming with tropical fish (and stingrays!), and a romantic picnic on a private island.
"Deciding on the French Polynesian Islands of Tahiti, Moorea, and Bora Bora for our destination was a choice we did not regret," Sarah said. "We would highly recommend it as a honeymoon destination to those who are just beginning their lives of travel and adventure!"
Rhea & Michael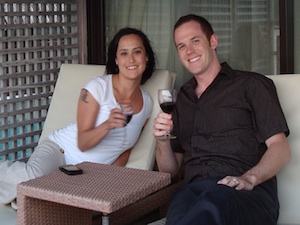 Thanks to a tip from a family member, Rhea & Michael spent their once-in-a-lifetime getaway on the isle of Moorea.
Favorite moments include jumping into the ocean from their own overwater bungalow, enjoying a three-course dinner on their private patio, and getting tattoos from a genuine Polynesian tattoo artist.
"Before our honeymoon, I had never even heard of Moorea," Rhea said. "It turned out to be the best suggestion ever! I would definitely recommend Moorea for the 'chill by the beach type of traveler.'"
Nicole & Andy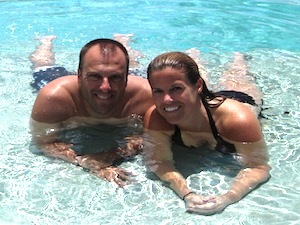 On the heels of a spectacular autumn wedding in the San Francisco Bay Area, Nicole and Andy "boarded their plane to cloud nine and drifted away." Highlights include 4x4 safari excursions, circling the island via scooter, and experiencing jaw-dropping aerial views while parasailing.
"Andy and I were grounded in life," Nicole said. "Each of us owned our own homes prior to living together and had many of the housewares that newly engaged couples typically needed. And while there were a few household items that we registered for at the local department store, we wanted our guests to be a part of our honeymoon journey."
Recently return from your ultimate getaway to the South Pacific? E-mail us at blog@travelersjoy.com and tell us your story!