Though we may be lamenting the shorter days and markedly crisper air as fall creeps in, let's not forget that the autumn season also brings in the most colorful time of year: the leaf change.
Starting in late September and stretching through early December, the northern hemisphere is blanketed in leaves of intense reds, oranges, and yellows. New England and the Northeastern United States may be the most famous regions for fall colors, but there are other places around the world that light up like fire just the same. Choose one of these five destinations for a relaxing and colorful fall honeymoon.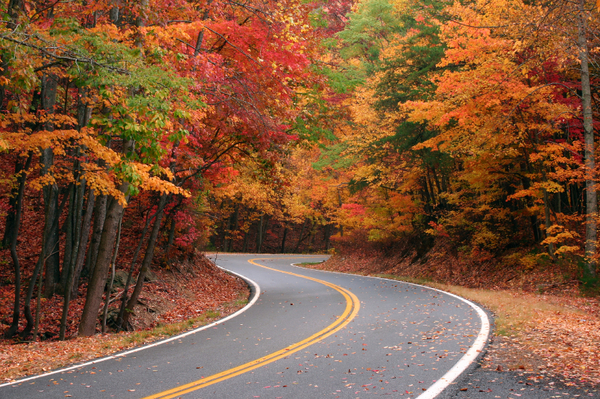 Wine Country, California
The "crush," or the harvest, is the most popular time of year to visit Napa and Sonoma as their wineries are at the height of activity. Instead of visiting in spring or summer where you only hear about the winemaking process, come here in October to see grapes being harvested, crushed, and vinified right in front of your eyes. Stay in one of the area's many resorts, bed and breakfasts, or spas for an ideal place to relax after a day of wine touring and tasting.
Quebec, Canada
While most travelers are heading to Montreal or Quebec City for a autumn French-Canadian getaway, Quebec's wide open spaces are turning crimson, vermillion, and saffron. September and October are the ideal times to see Quebec's colors at their brightest in the Laurentides, home of famous ski destination Mont-Tremblant. In this serene mountain landscape, you'll find both quaint lakeside inns and large luxurious resorts hidden amongst the colorful trees.
Loire Valley, France
Fall in the Loire Valley not only offers the bright colors of changing leaves and the excitement of the grape harvest, but it also offers the opportunity to visit fairytale-like chateaus without the throngs of summer tourists. For wine lovers, some wineries even offer tours where you can join in on the harvest and stay for a meal of local cheeses and delicacies. And don't forget to carve out time for a visit to Chenonceau, one of the most beautiful castles in the whole area. Peak leaf timing here is between September and November.
Kyoto, Japan
Imagine touring historic Japanese temples under a canopy of colorful trees. At night, lights not only illuminate architectural details of the temples, but also the bright cherry red of millions of Japanese maple leaves. This is Kyoto in November and December. Autumn leaf peeping is a cherished pastime in Japan that rivals the spring cherry blossoms season.
Check out this helpful guide for a list of temples to visit.
Crested Butte, Colorado
Colorado may be known for its high mountains and alpine evergreen trees, but the famous Aspen tree still puts on a show in the autumn months. Little red and orange are found in Colorado, but head to Crested Butte to be enveloped in shades of yellow. In late September or early October, this is a quiet mountain escape without the chill of the Rocky Mountain winter.
Are you planning a fall getaway? Tell us about it over on Facebook!