At the Lowes Coronado Bay Resort near San Diego, California, the bar has been raised when it comes to couples massages. Thanks to the Voga Massage, honeymooners can now experience relaxation, romance, and rejuvenation all at once on their once-in-a-lifetime getaway. But as newlyweds often find out, it's the vessel and overall location that truly makes this activity one of a kind.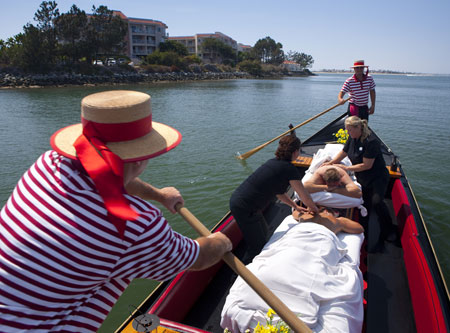 Aboard the Venetian Caorlina, an authentic gondola, newlyweds will enjoy an invigorating 40-minute massage with the aid of professional massage beds and experienced therapists. The face-down massage features a sunscreen application and then focuses on key stress points around the body like the neck, back, shoulders, and legs to relieve tension.
To cap the unforgettable ride, honeymooners can indulge in chocolate covered strawberries, champagne, or their beverage of choice while taking in breathtaking views of the canals of Coronado Cays.
Image courtesy of The Gondola Company.