We love hearing from TJ couples and learning about their incredible honeymoon experiences. This week we've assembled a few of our favorites from Costa Rica. Hopefully these amazing stories will provide some inspiration in planning your own trip. Enjoy!
Tiphani & Jesse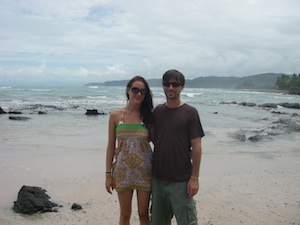 After first meeting each other in Costa Rica, Tiphani and Jesse made a honeymoon return to the country where they first fell in love. Highlights include exploring the Osa Peninsula, navigating back roads during the rainy season, and enjoying wine under the stars at a waterfall.
"As we drove to the ferry and boarded, I thought of how things had changed since the last time I left the peninsula, of how when I left, I had left in love yet knew not if I would ever see the man again," Tiphani said. "This time, I left with the man by my side, hand in hand, to begin our life together and continue on with our random adventures of humorous circumstance. We would recommend that kind of honeymoon to anyone."
Araceli & Fred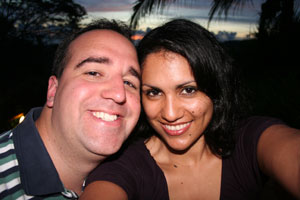 These newlyweds experienced tropical storm conditions upon arrival, took invigorating mud baths, and enjoyed romantic sunset dinners at their boutique hotel.
"Our favorite experiences during our honeymoon were the ones where we didn't plan to do anything at all," Araceli said. "We sat on our private patio, glasses of wine in hand, and fell into the sublime experience of sharing the beauty of nature together. After over a year of stress planning for the wedding, it was painfully enjoyable to do just that."
Susan & Landry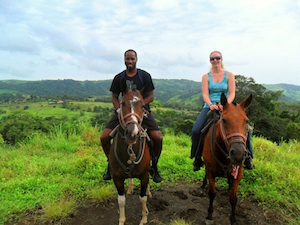 The adventurous couple ziplined upside down through the rainforest, went horseback riding at Arenal Volcano, and even embarked on a private guided snorkeling tour.
"We were able to spot rainbows of different fish, horseshoe crabs, and even a little shark [on the snorkeling tour], Susan said. "It was amazing how much the landscape at the sea bottom changed as we swam from area to area. I'd been snorkeling several times before, but it was my husband's first time. It may have been his favorite experience of our entire honeymoon."
Are you planning a honeymoon trip to Costa Rica? Recently return from your ultimate getaway to Central America? E-mail us at blog@travelersjoy.com and tell us your story!