Imagine sweeping views in all directions of both desert and rugged mountains. The scent of botanicals floats through the air. Enveloped in an oversized robe, you sink into a soft couch sipping tea after a soothing massage. This is exactly the feeling you'll want as a newlywed as the stress of planning a wedding can really take its toll. A honeymoon spa retreat may be the best way to decompress together.
Arizona is famous for its abundance of luxury resorts and spas, so choosing the right one can be a difficult task. While most spas will offer a variety of services and luxurious amenities, these three spas stand out with their alternative treatments, exotic style, or sense of place in the Arizona desert.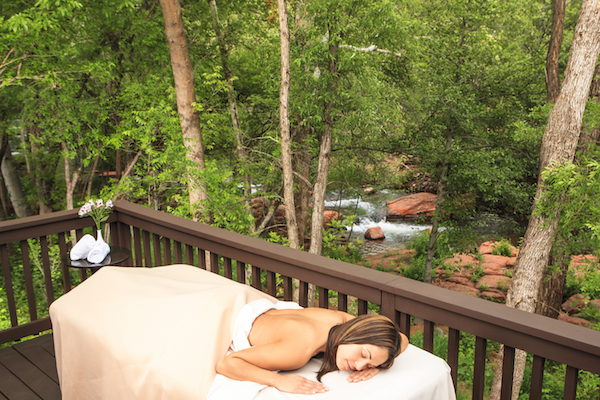 Spa at L'Auberge de Sedona
Sedona's unique new age spiritual personality is alive at the Spa at L'Auberge de Sedona. While a range of massages, facials, and scrubs are offered, this spa really shines with its healing treatments and rustic location.
Start the day off with an outdoor yoga experience at sunrise ($135, 60 minutes, $195, 90 minutes). Later, try the Japanese healing practice Reiki, which involves hand placements and energy transfers ($135, 60 minutes). Looking for an afternoon massage? Just say the word and you can enjoy a couple's massage at a suite overlooking Oak Creek. The trickling sounds of water are sure to add an extra layer of relaxation on top of an already soothing spa experience. At the end of the day, don't forget to enjoy the sunset over the famous red rocks -- this is how Sedona dazzles.
Spa at Camelback Inn
Set near the base of Mummy Mountain in Scottsdale, the Spa at the Camelback Inn offers a luxurious experience that almost could be termed "farm-to-spa." The indulgent Adobe Clay Purification Wrap ($165, 60 minutes) utilizes natural Arizona red adobe clay while the Desert Nectar Honey Wrap ($155, 60 minutes) incorporates local Arizona honey into the treatment. On Saturday mornings, you can even join a discussion with the resort's Master Gardner about the natural healing properties of many local plants and herbs.
At the Camelback Inn, the focus is on the Sonoran Desert. Spend a little time outside in their private poolside cabanas. Renting one for the day (starting at $125) will offer you sweeping views of the desert while you enjoy chilled aromatherapy face towels and fresh fruit.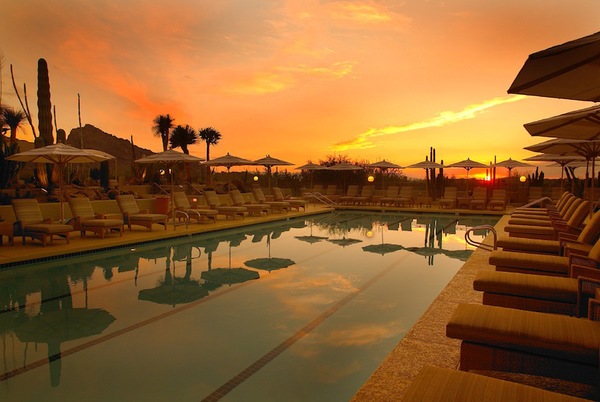 The Joya Spa at Montelucia Resort
The Joya Spa is full of exotic flair. You'll be whisked away from the Arizona desert and dropped into the mystical desert of Morocco. The spa's décor is reminiscent of a palatial Moroccan riad, complete with ornate windows and doors, brightly colored accent pillows and flowing curtains, and even a traditional Middle Eastern Hammam.
Start with the signature Joyambrosia massage (starting at $219, 80 minutes) which utilizes the famous Moroccan cure-all Argan oil as well as mint and spices. Then, try out the Hammam ($40), which leads you through a mixture of steam rooms, whirlpools, cold water baths, and a traditional scrub with black soap (which contains more Argan oil) and a kassa glove. At the end of your international spa retreat, savor a fresh smoothie from the juice bar while taking in the view of Camelback Mountain.
Planning a spa-centric honeymoon to Arizona? Tell us which spas you'll be visiting on your ultimate getaway.