When it comes time to create a wedding registry, just about every couple hears this piece of etiquette advice: "Never print gift information on your invitations."
So how exactly will guests know where to purchase gifts that the couple will really use? Below we've listed four easy and efficient ways you can notify guests of your registry while adhering to proper wedding etiquette.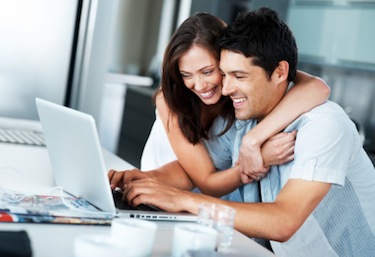 Create a Wedding Website
Through a personal wedding site, you can easily let your guests know about many important wedding details, including your registries. You can even include your wedding website in your invitations, send e-postcards to guests with website info, or use announcement cards.
Traveler's Joy is a partner with three of the most well regarded wedding sites in the industry -- The Knot, WeddingChannel, and WeddingWire. All three offer beautiful websites with endless features and tools for the wedding planning process. Also, these sites link automatically with your Traveler's Joy honeymoon registry so it's easy for guests to find your registry page with just one click.
Tell Your Wedding Party
Your wedding party and close family members should know all the details of your wedding, including your registries. This is key so they can share this important information with other guests. Word of mouth remains a terrific way to inform guests about your registry.
Shower Invitations
Go-to etiquette sources say that it's perfectly fine for the host of your wedding shower to include the registry information in your shower invitations. For example, Emily Post says, "Include the information on a separate sheet in the envelope along with the shower invitation, but not on the invitation itself."
Social Media
Finally, using social media can be an effective way to share information with your family and friends. In fact, many of our Traveler's Joy members share their experience creating a registry via Facebook or Twitter. This gives friends an idea of where you're registered and you don't even have to tell them directly.
In the end, your guests really want to purchase a gift for you that is meaningful and helpful. With a little creative thinking, you can help guests find gifts that you really need while still following proper wedding etiquette guidelines.
Got any other ideas on how to share your registry with your family and friends? Let us know over on Facebook!