On the heels of a hectic wedding, it's easy for newlyweds to overlook certain key aspects of the honeymoon. However, between pre-trip planning and mid-vacation travel tactics, there are a number of ways that couples can ensure they have a stress-free and well-organized getaway.
Before you embark on your ultimate getaway, read through these ten biggest honeymoon blunders. By implementing just a few simple strategies, you'll be able to have the best experience possible and hopefully avert any kind of honeymoon disaster.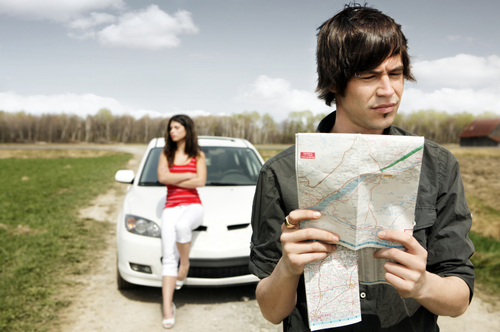 Leaving immediately after the wedding. It's been a whirlwind day already, so why make it even crazier by departing for your honeymoon directly from your reception? At the least, give yourself a day or two to unwind, say farewell to friends and family, and get organized for your trip.
Waiting to pack until the night before you depart. Just realized you don't have any sunscreen? Forgot your sunglasses? Now you'll be forced to take time out of your trip to buy replacements -- often at a marked-up price. Plus, by waiting until the last minute, you can put undue stress upon yourselves right before you leave. Check out our honeymoon packing tips article on how to get ready.
Planning too many activities. Just because you're on your ultimate vacation, it doesn't mean you have to pack your schedule with three dozen activities. Instead, pick a few can't-miss experiences, but leave time for simple, relaxing things, whether it's hanging out at a sidewalk cafe or kicking back at the beach.
Not researching or planning. It's one thing to be a little spontaneous, but it's entirely different to be clueless. Don't wait to learn about your destination or reserve accommodations until you show up. You may be in store for an awful lot of disappointment.
Only visiting touristy attractions. Head off the beaten path every once in awhile and search for more authentic experiences.
Picking the wrong time to travel. Here's another case of how a little research goes a long way. By picking a shoulder season or another ideal time to visit your destination of choice, you could bypass stress-inducing things like overflowing crowds, extreme weather, closed facilities, and bloated prices on hotels and attractions.
Forgetting to renew or acquire a passport. Or (heaven forbid) losing it. Check and then double check your expiration date. If you're in need of a new passport, make sure you apply at least three months ahead of your trip to ensure a smooth delivery. Additionally, when traveling with a passport, never leave it out of your sight. When at your hotel, lock it in your room safe. When traveling out and about, keep it on your person with a passport holder.
Not locking valuables and suitcases. This especially goes for baggage when traveling or staying at a hotel. To help deter theft, make sure you purchase a few TSA-compatible locks.
Overpacking. It may seem obvious, but it's one of the most common travel mistakes that honeymooners make. Not only does overpacking lead to excessive travel fees for heavy baggage (sometime as high as $100 per bag!), but it also makes it a hassle to lug your gear around. Check out our honeymoon packing list for a few tips and tricks.
Not going. No matter if it's Milwaukee or Milan for two days or 20, just make sure your honeymoon happens. After all, these trips only come around once in a lifetime.
Got any more travel tips for fellow honeymooners? Share your advice over on Facebook.