Traveler's Joy is holding the Ultimate Honeymoon Destination Bracket to determine the world's top spot to honeymoon.
How It Works
We've selected 8 of our most popular honeymoon destinations. But now we need YOUR help to determine the ultimate getaway.
So what exactly is an "ultimate" honeymoon destination? In our mind, it's all about a location that boasts exceptional beauty, offers a wide variety of cultural sites, entertainment, and activities, exudes romance, and has a distinctness that sets it apart from others.
To crown a champion, we've set up a bracket (see below) featuring TJ's top 8 most popular destinations. There will be a total of seven matchups between March 19 and April 14 to determine the top spot. The destination with the most votes in each matchup will move on to the next round. Participants can submit their vote via Facebook, Twitter, Pinterest, Google+, or email. Only ONE VOTE PER MATCHUP please!
Giveaways
Each week of matchups will also feature a giveaway. To be eligible for the giveaway, participants MUST submit their vote via email to blog@travelersjoy.com. Stay tuned each week to see what the latest prize is!
Notes:
Each week, one voter will be chosen at random to receive a prize.
Giveaway winners will be announced the following Monday.
Only one vote per matchup is permitted.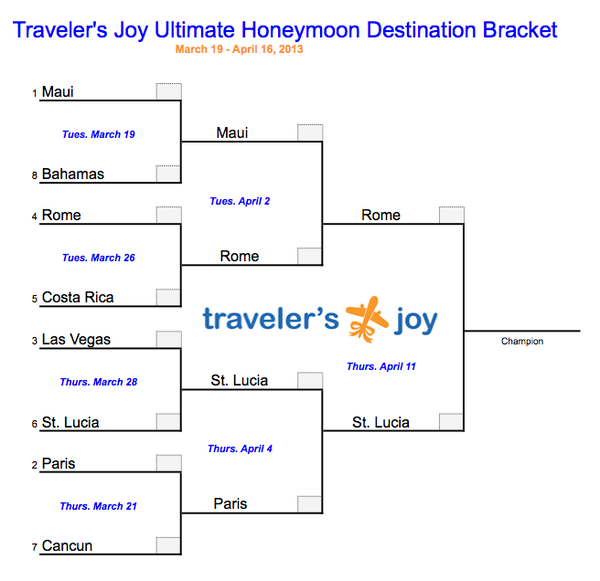 UPDATED (4/11): Click here for the St. Lucia vs. Rome championship page and featured giveaway.

So what's the ultimate honeymoon destination in the world? Make sure your voice is heard! Vote in TJ's Ultimate Honeymoon Destination Bracket!