Can you name the specific honeymoon site and location based on the photograph provided?
Submit your answer via e-mail to blog@travelersjoy.com by Sunday, February 10 at 11:59 pm PST. One correct submission will be chosen at random to receive a 1-year subscription to National Geographic Traveler Magazine.
UPDATED: The correct answer is Fort Jefferson, Garden Key, Dry Tortugas National Park, Florida.
This week's giveaway winner is SARA D.
Thanks to everyone for participating! Stay tuned in the coming weeks for the latest TJ giveaway.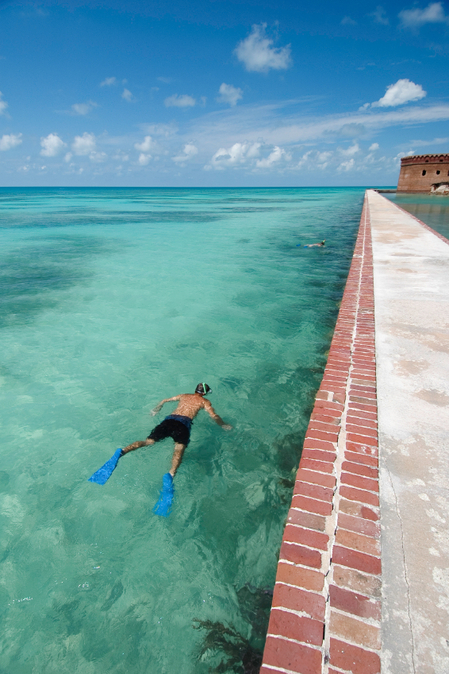 About Fort Jefferson & Dry Tortugas National Park:
Florida honeymooners shouldn't miss out on a excursion to Dry Tortugas National Park, a small group of islands located just 70 miles west of Key West. After arriving via seaplane or ferry, you'll be able to explore the area's amazing coral formations, get up close to diverse marine life, and wander around historic structures while learning about the area's pirate past.
Take a tour of impressive Fort Jefferson, a giant military fortress constructed during the mid-1800s. Consider spending the night camping out under the stars on the island, truly a romantic and unforgettable experience.
Notes:
Only one entry allowed per person, please.
Winner will be announced Monday, February 11!