Can you specifically name the honeymoon destination based on the photograph provided? Submit your answer on Facebook or Twitter (@travelersjoy) through Tuesday, January 8. You can also e-mail us at blog@travelersjoy.com.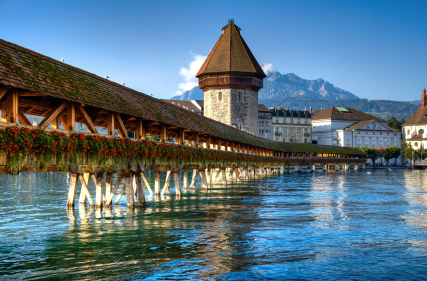 UPDATED: The correct answer is Lucerne, Switzerland.
The largest city in Central Switzerland, Lucerne is nestled along the western shore of Lake Lucerne and boasts phenomenal views of Mount Pilatus and the Swiss Alps.
It's easy to explore Lucerne's compact central area, which is vibrant and irresistible. The medieval Old Town lies on the north bank of the Reuss River. Be sure to cross over to the south bank by taking the medieval Chapel Bridge (pictured above). The south bank is home to many shopping areas and historic churches, plus Lucerne's main train station.
Next, head back to the Altstadt by crossing Spreuerbrucke, a gorgeous wooden covered bridge dating back to 1408. While exploring the old town by foot, take time to soak in the neighborhood's colorful and historic houses - many of which feature brightly painted frescoes.
Did you visit Lucerne or have plans to go there on your honeymoon? We want to hear about it! Share your plans or favorite experiences on our Facebook page or e-mail us at blog@travelersjoy.com.