Looking for a cool place to chill on your upcoming honeymoon? The soon-to-be-christened Norwegian Breakaway cruise ship will feature a fully-customized ice bar. According to reports, the chilly nightspot will be similar to the one first introduced on the Norwegian Epic back in 2010 -- just with a few key differences.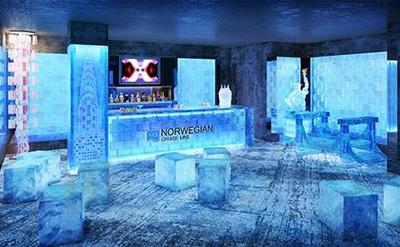 In the latest version, the 25-person bar will have a New York City theme, include a variety of Big Apple-inspired cocktails, and feature ice sculptures of the Statue of Liberty, Brooklyn Bridge, and Chrysler Building. Meanwhile, the bar, seats, and glasses will all be made entirely out of ice. With the room set at a brisk 17 degrees Fahrenheit, all patrons will get hooded coats and gloves to keep warm.
The New York-based ship starts sailing in May with Bermuda, Florida, the Bahamas, and the Southern Caribbean as year-round destinations.
What do you think of the concept? Share your thoughts on our Facebook page.
Image courtesy of Norwegian Cruise Line