With the prime fall honeymoon season set to kick off, many newlyweds will soon hit the road to get a glimpse of some of the nation's most spectacular foliage. Complete with scenic mountain drives, exciting excursions, and plenty of romantic activities, these three unique U.S. destinations will provide an unforgettable foliage-themed getaway. Check out our guide below for trip ideas, scenic drives, and memorable detours.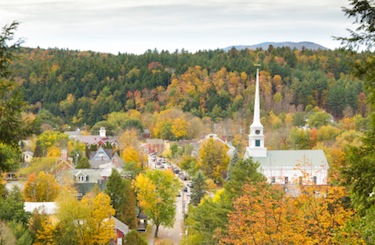 Vermont
With mountains, storybook villages, covered bridges, and numerous scenic drives, Vermont is a terrific fall honeymoon destination. The foliage typically reaches its peak during the first week of October, when bright colors of gold, orange, and red permeate the landscape.
Starting in Wilmington, make your way up Route 100, which slices right through the heart of the Green Mountains. Take your time as you stop along the way at farm stands, general stores, and scenic lookouts.
Finish your honeymoon by hunkering down in picturesque Stowe, offering top-notch restaurants, B&Bs, resorts, shopping, and -- of course -- many outdoor activities. Add some adventure to your trip by planning out a few hiking, kayaking, or biking excursions. Umiak Outdoor Outfitters rents canoes and kayaks and leads guided tours, including a trip that ends with a visit to a local winery.
When to Go: Late September to early October
Must-Do: Stop at The Warren Store along historic Main St. in Warren for a feast of fall flavors. This wonderful country shop features a wine shop, deli, bakery, and gifts section.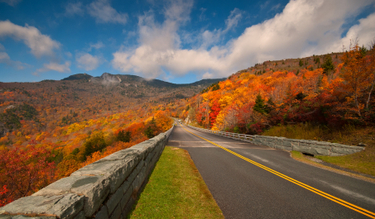 Blue Ridge Parkway, North Carolina & Virginia
This incredible Appalachian Mountain-based roadway runs for 469 miles between Great Smoky Mountains National Park and Shenandoah National Park in North Carolina and Virginia. The two-lane tree-lined highway dips and climbs along the spine of the Blue Ridge mountain range, enabling honeymooners ample glimpses of the colorful foliage, plus farmland, meadows, and mountain valleys.
The fall season is a perfect time for outdoor pursuits such as wildlife viewing, hiking, and biking. Consider hiking legendary mountains like Mount Pisgah, Mount Mitchell, or Grandfather Mountain. Save time for detours to regional museums, historic sites, and other attractions along the way.
End your trip in beautiful Asheville. This vibrant city in western North Carolina is home to the Biltmore Estate, an active and very walkable downtown, and countless first-rate resorts, spas, and hotels.
When to Go: Mid-October
Must-Do: Stop at milepost 213 and visit the Blue Ridge Music Center in Galax, Virginia. The center is home to daily concerts, a notable museum, fall heritage events, hiking trails, and even an outdoor amphitheater.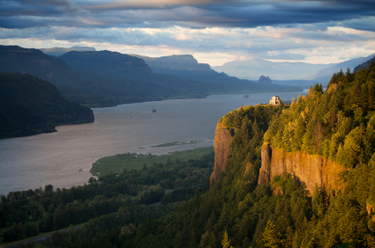 Columbia River Gorge National Scenic Area
Just 13 miles east of Portland, Oregon, the Columbia River Gorge boasts incredible foliage in mid-to-late October. Carved from great floods at the end of the last Ice Age, the gorge is truly breathtaking, featuring canyon walls as high as 4,000 feet and many waterfalls cascading down its sides. Come mid-October, the region explodes with color, particularly with common trees such as the cottonwood, aspen, and maple.
In addition to gorges, waterfalls and amazing views, the region is home to other top sites including the Bonneville Dam, Vista House at Crown Point, Lewis and Clark State Park, and the Columbia Gorge Discovery Center.
Meanwhile, use Portland as your home base to explore other impressive regional destinations like Mt. Hood, the Oregon coast, the Willamette Valley wine country, and Mt. Rainier.
When to Go: Mid-to-Late October
Must-Do: Visit Multnomah Falls. The 620-foot waterfall is the tallest in the state of Oregon and absolutely awe-inspiring.
Are you planning a fall honeymoon to any of these destinations? What are you planning to do on your upcoming trip? Share with fellow honeymooners on Facebook!