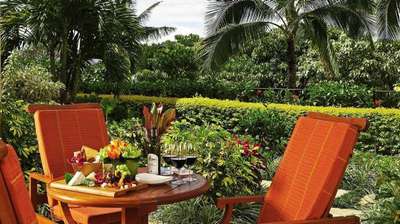 The bar has been raised for room service well beyond breakfast in bed these days. In fact, many hotels are now offering sumptuous offerings from acclaimed on-site restaurants as part of their in-room dining menus. So before you add room service to your honeymoon registry this year, check out these five incredible in-room dining options from top U.S. honeymoon spots. Get ready for some unforgettable meals -- all in your bathrobe, of course.
Four Seasons Resort Maui at Wailea (Maui)
Here at one of Hawaii's top all-around resorts, you've got three top-notch restaurants to choose from like Wolfgang Puck's Spago. Menu highlights include build your own pizzas and a trilogy of crème brulee. Want to get away from your room for a special private meal? Order a picnic basket filled with delicious goodies and head down to the beach.
Healdsburg Hotel (Sonoma Valley)
In-room dining at this Healdsburg gem is provided by Dry Creek Kitchen, Charlie Palmer's renowned Sonoma Valley restaurant. Choose from mouth-watering options like lemon ricotta tortellini, peach and prosciutto salad, and the coffee and spice crusted pork tenderloin. Meanwhile, kick back and relax within your well-appointed courtyard suite, complete with a spacious balcony, walk-in shower, and designer furniture.
Amangani (Jackson Hole)
Amangani's impressive in-room dining menu enables guests to enjoy James Beard Chef Rich Sordahl's creative American cuisine from The Grill at Amanagi. The restaurant focuses on sustainable fresh ingredients, including specialties like braised Montana bison short ribs. All the while, this fantastic property is set at 7,000 feet and offers jaw-dropping views of the Teton Mountains, even from your own private deck.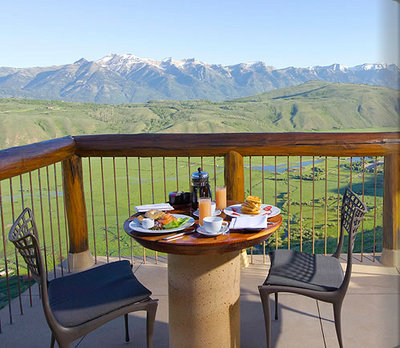 The Surrey (New York City)
Take advantage of some of the world's finest cuisine in the comfort of your guest room thanks to room service through Café Boulud. The highly-regarded restaurant has been awarded three stars from The New York Times and a star in the Michelin Guide through its unique twist on French cuisine. Standard suites at The Surrey feature separate living rooms, small kitchens, soaking tubs, and private terraces, many with unparalleled views of Central Park.
Stowe Mountain Lodge (Vermont)
With overall spacious and luxurious accommodations, you can really take advantage of the hotel's extensive in-room dining menu for three meals a day. The impressive menu includes dynamic offerings from Solstice and Houseglass, known for their farm-to-table cuisine and locally sourced ingredients. Meanwhile, rooms at the lodge boast oversized windows with views of Mt. Mansfield and Spruce Peak, plus a stone-framed fireplace.
What were the most memorable room service meals on your recent honeymoon? For soon-to-be newlyweds, are you looking forward to any particular in-room dining specialties on your upcoming trip? Let us know on Facebook or drop us a line at blog@travelersjoy.com.
Images courtesy of Four Seasons Hotels and Amangani Resort.