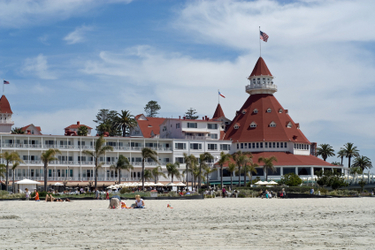 Renowned coastal scientist Stephen Leatherman -- perhaps better known as "Dr. Beach" -- recently revealed his Top Ten U.S. beaches for 2012. Coronado Beach in California took home the top spot this year in the annual rankings, which rates 650 public beaches on 50 criteria such as sand softness, water temperature, water quality, overcrowding, noise, and public safety.
Many of the 2012 beaches were also listed in the best beaches of 2011. However, beaches are retired from the list once they hit No. 1. Past winners include Bahia Honda State Park (Florida Keys, Florida), Hanalei Bay (Kauai, Hawaii), and Coopers Beach (Long Island, New York).
Traveling to any of the beaches featured in this year's Top 10? Tell us about your honeymoon plans on Facebook or send an e-mail to blog@travelersjoy.com.
1) Coronado Beach, California
Popular with swimmers and sunbathers alike, Coronado Beach is a 1.5-mile long stretch of gorgeous sand located just outside of San Diego. Says Leatherman, "The beach is very flat, making it great for skim boarding and walking, and the sand has a silvery sheen because of the presence of mica." Plus, with the famous Hotel del Coronado at its doorstep and a charming village just a few steps away, this spectacular beach is truly one-of-a-kind.
2) Duke Kahanamoku Beach Waikiki, Oahu, Hawaii

Situated between the Hilton Hawaiian Village and the Ala Wai Yacht Harbor, Kahanamoku Beach is the widest beach in the Waikiki region. Thanks to an offshore reef that protects it from big waves, this stunning beach is also popular for swimming, kayaking, and canoeing.
3) Main Beach, East Hampton, New York
This impeccable Long Island beach stands out for its big, wide sandy shores, clean water, and undulating sand dunes. An idyllic village scene also attracts everyone from A-listers to young couples seeking romance and a getaway from the city.
4) St. George Island State Park, Florida
5) Hamoa Beach, Maui, Hawaii
Ernest Hemingway once called Hamoa Beach the greatest beach in the world. Well, it's certainly easy to see why. Located in the peaceful hamlet of Hana, Hamoa Beach is a crescent-shaped, gray-sand beach surrounded by lush vegetation and rocky sea cliffs. Since the drive to Hana requires hours of treacherous turns and features dozens of one-lane bridges, simply reaching the beach is an ultimate reward. You'll feel like you've landed in paradise.
Photo Credit: Travaasa Hotel Hana
6) Coast Guard Beach, Cape Cod, Massachusetts
7) Waimanalo Bay Beach Park, Oahu, Hawaii
8) Cape Florida State Park, Key Biscayne, Florida
9) Beachwalker Park, Kiawah Island, South Carolina
Also a top pick among the Traveler's Joy editing team, Beachwalker Park on Kiawah Island separates itself for its variety and 10-mile long coastline. The hard-packed sand is ideal for biking, which is a favorite among honeymooners and locals throughout the year. Meanwhile, outdoor enthusiasts are drawn to Kiawah for its tremendous kayaking and canoeing options, which include back bay paddles in search of native birds and plants.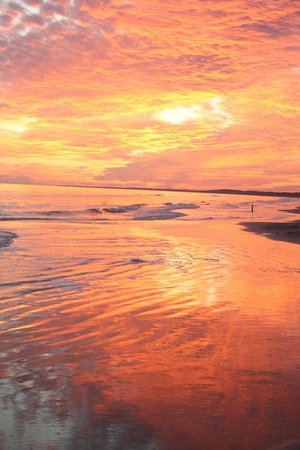 10) Cape Hatteras, Outer Banks, North Carolina