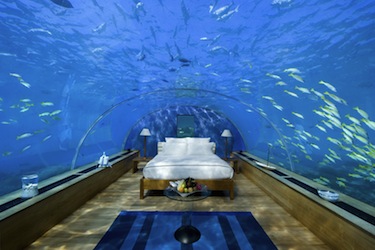 To stand out in today's hotel industry, free Wi-Fi, chocolates on your pillow, and complimentary breakfast simply don't cut it anymore. Learn how several prime honeymoon hotspots are taking amenities to another level and aiming to make your experience one to remember.
Sleeping with the Fishes
The ultra luxurious resort Conrad Maldives Rangali Island features an underwater restaurant where guests can dine about 16 feet below the Indian Ocean. Meanwhile, this truly unique spot can also be converted into a guest suite. In addition to being surrounded by colorful coral, white-sand beaches, and millions of fish, the room is highlighted by arched plexiglass while the entrance area sports a spiral staircase.
Put Your Records On
The Ace Hotel in Palm Springs certainly stands out by featuring an array of recycled and sustainable materials, plus vintage furnishings and amenities. Perhaps coolest of all: many rooms come with vintage record players and dozens of vinyl selections that you can play anytime in your room. With your own private patio area and fire pit, it's going to be a most memorable stay.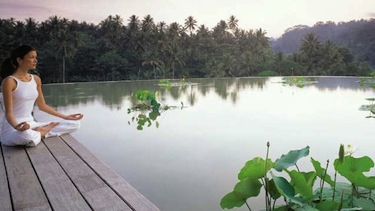 The Ultimate Balinese Experience
The Four Seasons Sayan in Bali is situated in the central highlands near Ubud and offers amazing views of rice terraces and lush forest. It's also a great location for excursions and active pursuits, which can easily be arranged through the hotel (think hiking, elephant trekking, river rafting, kayaking, nature walks, and Balinese farming experiences).
Guests can also participate in a Tri Hita Karana experience, a one-day program based on the Hindu philosophy of life. Translating to "three sources of life", you can experience all three of these through meditation sessions, a temple tour, a Balinese cooking class, and a "tiger grass cooler treatment" at the property's rejuvenating spa.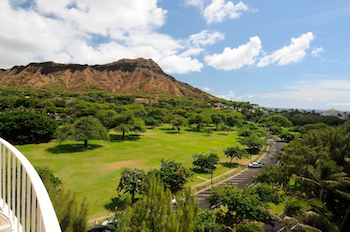 Cruisin' Waikiki
At the Aqua Lotus Honolulu, enjoy complimentary use of beach cruiser bikes to explore Waikiki, plan a picnic, or visit iconic sites like Waikiki Aquarium and the Honolulu Zoo. The boutique hotel's prime location is right between Diamond Head Crater and downtown Waikiki, making a great home base for Oahu exploration.
Take the Plunge
It's impossible not to embrace the relaxing honeymoon vibe at Capella Pedregal, easily one of the finest resorts in Cabo San Lucas, Mexico. Every room and suite here features an infinity edge plunge pool, perfect for daily dips out on your private terrace and spectacular ocean views. Plus, with 24-hour, in-room dining and beverage service available, you may never want to leave your suite.
Which amenities are you looking forward to most on your upcoming honeymoon trip? Been to any hotels in the past with unforgettable perks? What stood out most for you? Share your ideas and stories with fellow newlyweds on our Facebook page or send us an e-mail at blog@travelersjoy.com.