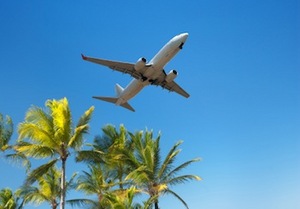 A honeymoon should be one of the best experiences in a couple's marriage. However, a canceled flight, lost piece of baggage, or bumped reservation can quickly turn your once-in-a-lifetime experience into the trip from hell. So before you book plane tickets to your ultimate honeymoon destination this year, take a look at the results from the 2011 Airline Scorecard.
Each year, the Middle Seat Scorecard ranks every major domestic airline carrier on a number of key measures deemed important to travelers, such as canceled flights, long delays, on-time arrivals, passengers bumped from flights, complaints filed with the Department of Transportation, and mishandled bags.
Click here to read more and to view the full 2011 Airline Scorecard.

2011 Scorecard Findings
The best performing carrier was Alaska Airlines, the smallest of the seven major US airlines. The airline finished in first place for on-time arrivals, excessive delays, and canceled flights.
Meanwhile, American Airlines ranked last overall, and also finished last in the categories of baggage handling and canceled flights. United/Continental Airlines scored in sixth place overall and was dead last for customer complaints and bumping passengers.
Delta Air Lines experienced a surprising turnaround after finishing in ninth place in 2010. In 2011, the carrier placed second overall. In fact, the Atlanta-based carrier ranked second in four of the six major categories. Last year, Delta was second worst when it came to baggage handling and punctuality, and had the highest rates of canceled flights and consumer complaints filed.
JetBlue had the most frequent delays and longest delays (1 in 8 flights was at least 45 minutes late last year), but contributes its New York and Boston hubs and several severe weather events (i.e. blizzards and hurricanes) for the performance.
While Southwest Airlines had the second-worst rate of mishandled bags in '11, it also had the fewest complaints per passenger and second-fewest amount of cancelled flights.
The data used for the scorecard came from the FAA, DOT, FlightStats.com, and airports.
Overall, how would you rate your honeymoon travel experience in 2011? Do you feel the recent scorecard findings are accurate? Tell us on Facebook.